Ø1/2" Manual Linear Positioner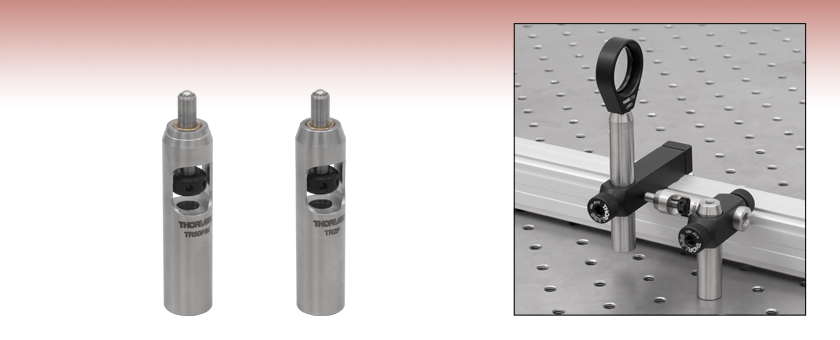 Adjustment Screw in a Ø1/2" Post Body
120 TPI Fine-Adjustment Screw with Steel Ball Contact
Compatible with all Ø1/2" Post Construction Accessories
TR2P
TR50P/M
Application Idea
A TR2P linear positioner is mounted in an RA90 right-angle clamp to push a 34 mm rail carrier into position.

Please Wait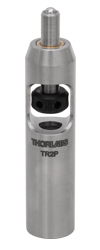 Click to Enlarge
The adjuster screw in the TR2P (TR50P/M) is actuated by a thumbscrew with six holes for a 1/16" balldriver.
Features
3/16"-120 Adjuster Screw
0.25" (6.4 mm) Adjustment Range
Ø1/2" Post Compatibility
Side- and Bottom-Actuated Thumbscrew
The TR2P Ø1/2" Linear Positioner is designed for precision positioning of optomechanical components. It includes a finely threaded 3/16"-120 adjuster screw within the body of a Ø1/2" post, making it compatible with all of Thorlabs' Ø1/2" Post Construction Accessories. The positioner can be actuated from the side using a thumbscrew, which includes six holes that accept a 1/16" hex key or balldriver. In addition, the bottom of the knob accepts a 5/64" (2.0 mm) hex key or balldriver, which can be inserted through the bottom of the body of the post.
These thumbscrew adjustments provide a 0.25" (6.4 mm) travel range for the adjustment screw, bringing the total height of the TR2P from 2.22" to 2.47" and the total height of the TR50P/M from 55.7 mm to 62.1 mm. Each revolution of the thumbscrew provides 0.008" (0.21 mm) of translation. The end of the adjustment screw includes a spherical steel ball contact that is designed to contact a flat surface, as shown in the images above and to the right. Please note that a restoring force must be applied if backward motion is required when the adjuster screw is retracted. Like the rest of our Ø1/2" posts, the bottom of this adjuster includes a 1/4"-20 (M6) tapped mounting hole.
We also offer the TRT2 (TRT2/M) Ø1/2" translating optical post and a line of kinematic positioners for adjusting components mounted on breadboards and optical tables. In addition, we have a complete line of motion control products for more precise positioning applications.