Modular Test & Measurement Platforms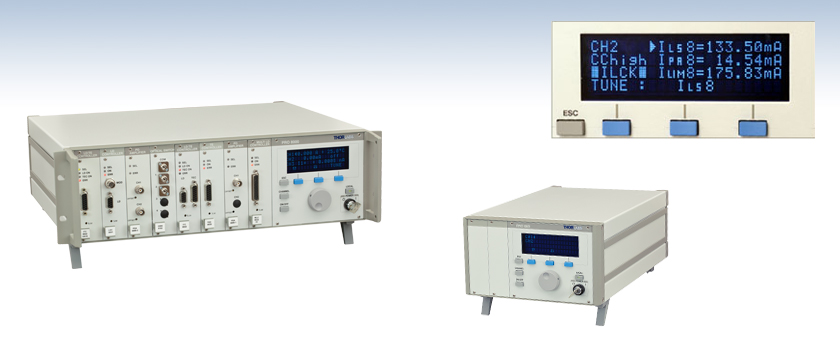 Modular Platform for Laser Diode Testing and Operation
Locally Operated Using Built-In Front Panel
Fast IEEE-488 and RS232 Interfaces for Remote Control
PRO8000

Shown with 8 Installed Modules
and Rack Mounting Adapter
Easy-to-Read Display
No PC Required for Operation
PRO800
2-Slot Benchtop Enclosure,
Shown with PRO8000-C Covers
(Sold Separately)

Please Wait
Our PRO8 Series Chassis can accommodate multiple PRO8 Series Modules, allowing for a customized telecom solution.
Please contact Tech Support for availability of desired wavelength.
Features
Universal, Modular Platform for Production and Quality Control
Current and Temperature Controllers for Laser Diode Operation, Characterization, or Burn-In Applications
Available Optical Modules Include WDM Laser Sources and Optical Switches
Compact, 2-Slot Benchtop and Rack-Mountable 8-Slot Versions Available
Remote Control via IEEE 488.2 and RS232
Accessories Included with Chassis:


Power Cord
Manual
Software CD
LabVIEW® and LabWindows™/CVI Drivers
Thorlabs' PRO8 test and measurement platforms are designed to operate electrical and optical modules for telecom testing and other applications. They control a broad family of interchangeable modular devices (see table to the right) and can be operated independent of an external computer. Two different versions are available: 2-slot benchtop (PRO800), and 8-slot rack-mountable (PRO8000). The 8-slot chassis option is compatible with our 19" Rack Mounting System.
Modules
The PRO8 display menu allows easy configuration of any module in the chassis. Mnemonic symbols provide user-friendly access to all operational parameters. As long as modules are not moved to different slots during power down, all settings are retained in memory and automatically recalled upon powering on the mainframe. Individual modules are automatically identified and, when selected, can be configured and controlled using the front panel controls.
To meet individual experimental needs, PRO8 chassis are made to order and custom configured with individually selected modules. Prior to placing an order, please contact Tech Support so that we can assist with determining your custom configuration. The table to the upper right lists all available modules. Customers may also order the chassis and modules separately.
Different cables are required to connect the PRO8 modules to a Thorlabs Laser Diode Mount. The cables, which have a length of 1.5 m, must be ordered separately. Pin diagrams are shown near the bottom of this page.
Item #
PRO800
PRO8000
Number of Slots
2
8
Mains Switch
Key-operated
Remote Control
Via IEEE488.2 and RS232C
Mains Supply
100 V, 115 V, 230 V (±10%) Fixed (50 to 60 Hz)
Maximum Power Consumption
220 VA
500 VA
Supply Mains Overvoltage
Category II
Operating Temperature*
0 - 40 °C
Storage Temperature
-40 to +70 °C
Relative Humidity
Max. 80% up to 31 °C, Decreasing to 50% at 40 °C
Pollution Degree (Indoor Use Only)
2
Operation Altitude
<2000 m
Maximum Output Current per Slot
4 A
4 A
Maximum Output Current for all Slots
8 A
16 A
Warm-Up Time for Maximum Accuracy
10 min
Dimensions (W × H × D)
232 mm × 147 mm × 396 mm
(3 U)
449 mm × 147 mm × 396 mm
(3 U)
Maximum Weight
<9 kg
<17 kg
Display and Operating Elements
Display
4 × 20 Characters Alphanumeric Vacuum-Fluorescence-Display
User Interface
Interactive Menus
Keypad
7 Micro-Switch Keys
Main Tuning Knob
Rotation Encoder
Acoustic Messages
Internal Beeper: Short Tone As Confirmation, Long Tone As Warning
Connectors on the Rear Panel
Ground
4 mm Banana Jack
Line
3-Pin IEC 320 with Fuse
Remote Control
IEEE488 (24-Pin) Jack or RS-232C (9-Pin) D-Sub Jack
Auxiliary Jack
9-Pin D-Sub (for Extensions)
Trig In (5 V Max, TTL)
BNC
Trig Out (5 V Max, TTL)
BNC
Software for the PRO800/PRO8000 Series
The available software can be downloaded by clicking on the link to the right, and is organized into the following categories:
Drivers: Instrument drivers to directly operate the device via external software to extend or adapt the functionality to user specific requirements.
Utility Module: Thorlabs Instrument Communicator 2 for instrument communication functionality.