Unanodized, Circular, Solid Aluminum Optical Breadboards, Double Density Holes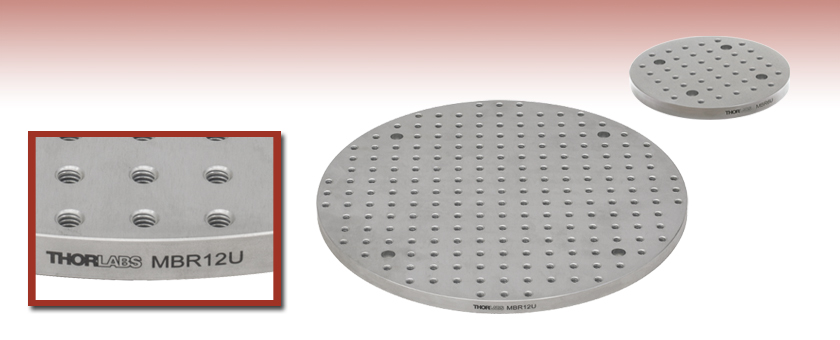 Unanodized Finish for Use in Vacuum Applications
Acid Etched and Vacuum Sealed for Immediate Use
Through-Tapped Mounting Holes
Custom Sizes Available
MBR12U
Ø12.00" Aluminum Breadboard
Counterbored Ø1/4"
(M6) Mounting Holes
MBR6U
Ø5.87" Aluminum Breadboard

Please Wait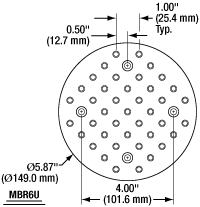 Click for Details
Diagram of the MBR6U Breadboard. For similar diagrams of the other circular breadboards, please see the
Weights & Dims
tab.
Specification
Imperial Boards
Metric Boards
Material
C250 Aluminum
Finish
Precision Ground, Matte Finish
Cleaning and Packing
Acid Etched and Vacuum Sealed
Size
Ø5.87" and Ø12"
Ø149 mm and Ø300 mm
Breadboard Thickness
0.5"
12.7 mm
Flatness
±0.006" over 1 ft2
±0.15 mm over 0.3 m2
Holes
1/4"-20 Taps
M6 Taps
Hole Spacing
1" Centers
Double Density Pattern
25 mm Centers
Double Density Pattern
Counterbores
Four 1/4" Holes
Four M6 Holes
Vacuum Compatibility as Packaged
10-6 Torr
Preparation and Packaging
Chemically Cleaned and Vacuum Bagged
Aluminum Outgassing Rate at 20 °C
7.6 x 10-9 Torr-Liters/s/cm2
Features
Precision Manufactured Unanodized Surface for Vacuum Applications
Acid Etched and Vacuum Sealed for Immediate Use
Electrically Conductive for Applications Requiring a Common Ground
Counterbored Mounting Holes for Attaching to an Optical Table or Breadboard Feet
Circular Geometry Saves Space
Same Hole Pattern as Our Double-Hole-Density Breadboards
Thorlabs' circular, unanodized, double-density breadboards are constructed from a 1/2" (12.7 mm) thick aluminum plate; this thickness is sufficient to maintain flatness over the full area (see the table to the right for flatness specifications). These nonmagnetic breadboards feature 1/4"-20 (M6) tapped holes at twice the density of our standard 1" (25 mm) hole pattern to provide a convenient platform for assembling prototype optical assemblies, conducting experiments, and mounting small subsystems. Please see the Weights & Dims tab for breadboard diagrams that call out the hole spacings.
Each breadboard offers four 1/4" (M6) counterbored mounting holes for attaching the breadboard to an optical table, another breadboard, mounting posts, brackets, breadboard feet, or other surfaces and mounts.
Vacuum Compatibility Information
These vacuum-compatible breadboards are chemically cleaned and prepared for vacuum applications before packaging. They are compatible directly out of the packaging with vacuum environments down to 10-6 Torr. With additional cleaning and processing, they can be used at even lower pressures, only limited by the outgassing rate of the aluminum (see the table above). The material properties of the aluminum and the cleaning methods completed by the end user should be used to determine the appropriateness of these products and materials in a specific vacuum system.
Thorlabs also offers rectangular double-hole-density optical breadboards, as well as rectangular standard-hole-density breadboards and unanodized, vacuum-compatible breadboards. Custom sizes of all breadboards are also available. Please contact Tech Support for more information.
Item #
Dimensions
Unpackaged
Packaged Shipping
Mass (kg)
Weight (lb)
Mass (kg)a
Weight (lb)a
MBR6U
Ø6.00" x 0.50"
0.56
1.23
0.57
1.26
MBR12U
Ø12.00" x 0.50"
2.34
5.16
2.59
5.71
MBR150U/M
Ø150.0 mm x 12.7 mm
0.56
1.23
0.57
1.26
MBR300U/M
Ø300.0 mm x 12.7 mm
2.27
5.00
2.66
5.86
These weights are approximate and are subject to change. The information is only to be used as a guideline.
---
Below are diagrams calling out the dimensions on each breadboard. Please note that the breadboards are not shown proportionally to one other.