Key Specificationsa
Travel Range
300 mm (11.8")
Horizontal Velocity (Max)
50 mm/s
Vertical Velocity (Max)
3 mm/s
Minimum Achievable
Incremental Movementb
0.1 µm
On-Axis Accuracyc
5.0 µm (Min)
Bidirectional Repeatabilityd
2 µm
Backlashe
2 µm
Load Capacity (Max) -
Stage Mounted Horizontally
15 kg (33.1 lbs)
Load Capacity (Max) -
Stage Mounted Vertically
4 kg (8.8 lbs)
Actuator Type
Stepper Motor
Cable Length (USB)
2 m (6.5 ft)
Features
300 mm Travel Range
Integrated Stepper Motor Controller
Control via Manual Keypad or Remote PC
Load Capacity

Horizontally Mounted: 15 kg (33.1 lbs)
Vertically Mounted: 4 kg (8.8 lbs)

Maximum Velocity of 50 mm/s
Bidirectional Repeatability of 2 µm
XY, XZ, and XYZ Configurable
1/4"-20 or M6 Tapped Holes for Mounting Standard Optomechanics
Power Supply Included
Thorlabs' LTS300(/M) Linear Translation Stage with Integrated Controller is optimized for applications requiring high load capacity and high resolution, such as measurement and inspection. It provides 300 mm of linear travel for loads as great as 15 kg (33.1 lbs) when mounted horizontally and 4 kg (8.8 lbs) when mounted vertically. Each stage features an on-axis accuracy of 5.0 µm (Min) when the unit-specific calibration files are used with the Thorlabs Kinesis or APT™ software. Due to the stepper motor design, the platform position remains fixed when no power is supplied to the stage, unlike with DC servo motor translation stages.

Click to Enlarge
Integrated Controller with Manual and Remote PC Control
The LTS300(/M) stage features an integrated electronic controller that can be controlled remotely using a PC or manually via the buttons and velocity potentiometer on the control keypad (see photo to the left). Parameter settings can be adjusted on the PC and stored in non-volatile memory within the unit itself. When the unit is powered up, these settings are applied automatically. This is particularly useful when the stage is being used manually in the absence of a PC and USB link.
The stage is lightweight, compact, and robust with high performance over the full travel range. The heavy-duty aluminum construction and 40 mm moving platform height makes this stage ideal for applications where space is limited. Integrated magnetic limit switches allow homing and overdrive protection in both directions. A precision-ground lead screw delivers smooth, virtually noise-free movement. The power supply provided with the stage operates with 90 - 264 VAC input voltages (47 - 63 Hz) and is shipped with a location-specific power cord.
Thorlabs also offers the LTS150(/M) Linear Translation Stage with Integrated Controller, which features 150 mm of travel.
Calibration Files
Each LTS300(/M) Linear Translation Stage is calibrated during manufacturing. Calibration enables the controller to correct for any mechanical errors present in the system. Mechanical components, such as the lead screw and linkages, can be machined only within a certain tolerance. These mechanical errors result in deviations of the actual position from the commanded position. However, the deviations are repeatable and can be compensated for using the Kinesis or APT software and included calibration files. These files are used by the software to convert the position entered by the user into the required mechanical motion. The calibration files can be downloaded by clicking on the red Docs icon (

) next to the item # below and entering your device's serial number under "Download Calibration Data."
The use of calibration files is optional. Without them, the repeatability and resolution of the stage are unaffected, but no compensations are made to enhance the accuracy. Each stage is calibrated at the factory, giving a typical on-axis accuracy of 47 µm without the use of the calibration files.
Stage Combinations
If an XY configuration is desired, any combination of LTS300(/M) and LTS150(/M) Linear Positioning Stages (the latter features a 150 mm travel range) can be mounted atop one another using the LTSP1(/M) XY Adapter Plate (sold below). XZ and XYZ configurations are possible using our LTSP3(/M) Z-Axis Bracket, which orients an LTS300(/M) stage in the vertical plane. Please note that stages and adapters with imperial or metric taps are only compatible with other stages and adapters featuring the same thread standards.
Software
The ActiveX® APT system software is also compatible with other APT family controllers, including our multi-channel controllers, rack-based controller, and smaller, optical-table-mountable K-Cube™ controllers. This single unified software offering allows seamless mixing of the LTS300(/M) stages with any APT benchtop, tabletop, or rack-based controllers.
Stage Specifications
Translation
Travel Range
300 mm (11.8")
Bidirectional Repeatability
2 µm
Backlash
2 µm
Maximum Velocitya
50 mm/s Horizontal, 3 mm/s Vertical
Velocity Stability
±1 mm/s
Maximum Accelerationa
50 mm/s2 Horizontal, 5 mm/s2 Vertical
Accuracy
Min Achievable Incremental Movementb
100 nm
Min Repeatable Incremental Movementc
4 µm
Absolute On-Axis Accuracyd
47 µm
Min Calibrated On-Axis Accuracy
5.0 µm
Max Percentage Accuracye
0.12%
Home Location Accuracy
±0.6 µm
Pitchf
<0.022° (384 µrad)
Yawf
<0.06° (1047 µrad)
Load Capacity
Horizontal Load Capacity
Max: 15 kg (33.1 lbs)
Recommended: <12 kg (26.5 lbs)
Vertical Load Capacity
Max: 4 kg (8.8 lbs)
General
Weight
2.5 kg (5.5 lbs)
Dimensions (W x D x H)
100 mm x 500 mm x 39.5 mm
(3.94" x 19.69" x 1.56")
Electrical Specifications
Motor Specifications
Step Angle
1.8° (50 Poles and ±2 Phases for 360° Divided by 200)
Step Accuracy
5%
Rated Phase Current
0.85 A
Phase Resistance
5.4 Ω
Phase Inductance
5.6 mH
Holding Torque
20 N•cm
Detent Torque
2.0 N•cm
Operating Temperature
-20 to 40 °C (Motor Specification Only)
Controller Specifications
Microsteps per Full Step
2048
Microsteps per Revolution of Motor
409,600 (for 200 Step Motor)
Motor Drive Voltage
24 V
Motor Drive Power
12.5 W (Avg)
Up to 25 W (Peak)
Motor Speeds
Up to 3000 RPM (200 Full Step Motor)
Input Power Requirements
Voltage
24 VDC
Power
25 W (Peak)
Power Supply Requirements
90 - 264 VAC (47 - 63 Hz)
Notes
Controller Features
The LTS300(/M) stage features an integrated APT™ compatible controller that can operated using either the manual keypad or remote computer control using APT software. The controller is fully configurable with key parameters exposed through the associated software graphical interface panels. Jog step sizes can be selected, phase currents can be limited to suitable peak powers as required, and limit switch configuration is accommodated through flexible logic settings.
In addition, relative and absolute moves can be initiated with move profiles set using velocity profile parameters (including acceleration/deceleration). Similarly, homing sequences have a full set of associated parameters that can be adjusted for a particular application. For ease of use, the APT software incorporates pre-configured settings for the LTS300(/M) stage.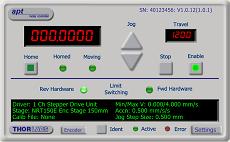 All key parameters may be adjusted using our intuitive software graphical panels. For example, a move to the next position can be initiated by clicking directly on the position display and entering a new value. These settings and parameters are also accessible through the ActiveX® programmable interfaces for automated alignment sequences. Refer to the Motion Control Software tab for further information on the APT software support for the BSC200 Series.
Full Software GUI Control Suite & ActiveX Controls Included
A full and sophisticated software support suite for use with the LTS300(/M) stage includes a number of user utilities that allow immediate operation of the unit without any detailed pre-configuration. All operating modes can be accessed manually, and all operating parameters may be changed and saved for future use. For more advanced motion control applications, a fully featured ActiveX programming environment is also available to facilitate custom application development in a wide range of programming environments. Note that all settings and parameters described above are also accessible through these ActiveX programmable interfaces. For further information on the APT software support for the LTS300(/M) stage, refer to the Motion Control Software tab. Demonstration videos illustrating how to program the APT software are also available on the APT Tutorials tab.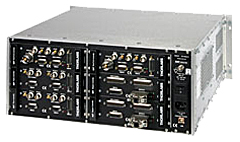 The ActiveX APT system software is also compatible with other APT family controllers, including our multi-channel benchtop units, rack-based systems, and smaller optical table mountable T-Cube™ controllers. This allows for allows seamless mixing of components. The common software architecture also makes it easy to create automated alignment/positioning systems which interact at the software level. All controllers in the APT range are equipped with USB connectivity. This allows multiple APT units to be connected to a single controller PC using USB hubs and cables. When planning a multi-channel application, simply add up the number and type of drive channels required and connect together the associated number of APT controllers.
Software Development Support
A development kit is included in the APT software for developers working on large, system integration projects that incorporate APT products. The kit contains an extensive selection of code samples as well as a library of video tutorials. Please see the Motion Control Software tab for details.
Computer Connection
USB Type B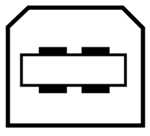 2 m (6.5 ft) USB Type B to Type A Cable Included
Thorlabs offers two platforms to drive our wide range of motion controllers: our Kinesis® software package or the legacy APT™ (Advanced Positioning Technology) software package. Either package can be used to control devices in the Kinesis family, which covers a wide range of motion controllers ranging from small, low-powered, single-channel drivers (such as the K-Cubes™ and T-Cubes™) to high-power, multi-channel, modular 19" rack nanopositioning systems (the APT Rack System).
The Kinesis Software features .NET controls which can be used by 3rd party developers working in the latest C#, Visual Basic, LabVIEW™, or any .NET compatible languages to create custom applications. Low-level DLL libraries are included for applications not expected to use the .NET framework. A Central Sequence Manager supports integration and synchronization of all Thorlabs motion control hardware.

Kinesis GUI Screen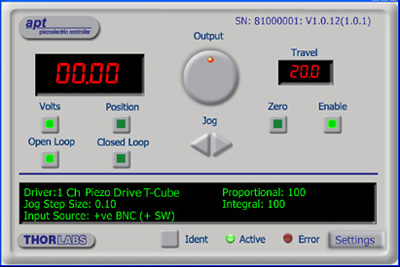 APT GUI Screen
Our legacy APT System Software platform offers ActiveX-based controls which can be used by 3rd party developers working on C#, Visual Basic, LabVIEW™, or any Active-X compatible languages to create custom applications and includes a simulator mode to assist in developing custom applications without requiring hardware.
By providing these common software platforms, Thorlabs has ensured that users can easily mix and match any of the Kinesis and APT controllers in a single application, while only having to learn a single set of software tools. In this way, it is perfectly feasible to combine any of the controllers from single-axis to multi-axis systems and control all from a single, PC-based unified software interface.
The software packages allow two methods of usage: graphical user interface (GUI) utilities for direct interaction with and control of the controllers 'out of the box', and a set of programming interfaces that allow custom-integrated positioning and alignment solutions to be easily programmed in the development language of choice.
A range of video tutorials is available to help explain our APT system software. These tutorials provide an overview of the software and the APT Config utility. Additionally, a tutorial video is available to explain how to select simulator mode within the software, which allows the user to experiment with the software without a controller connected. Please select the APT Tutorials tab above to view these videos.
Software
Kinesis Version 1.14.24
The Kinesis Software Package, which includes a GUI for control of Thorlabs' Kinesis and APT™ system controllers.
Also Available:

These videos illustrate some of the basics of using the APT System Software from both a non-programming and a programming point of view. There are videos that illustrate usage of the supplied APT utilities that allow immediate control of the APT controllers out of the box. There are also a number of videos that explain the basics of programming custom software applications using Visual Basic, LabView and Visual C++. Watch the videos now to see what we mean.
To further assist programmers, a guide to programming the APT software in LabView is also available.