T-Nuts and Screws for 25 mm, 50 mm, & 75 mm Rails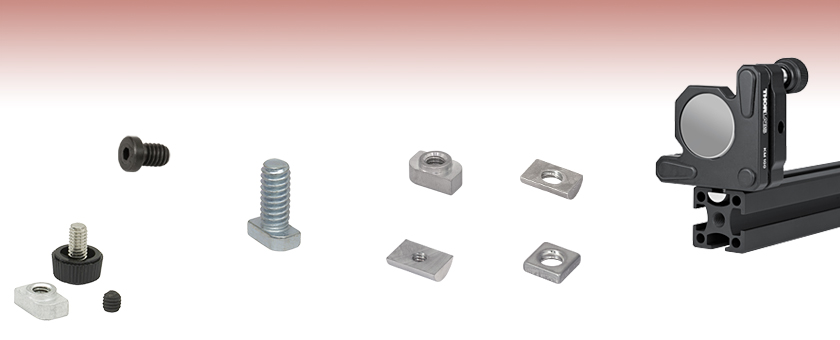 T-Nuts Fasten Rails to Other Mechanical Components
Hammerhead Screws Provide Quick-Release Mounting Stud
Low-Profile Screws Provide Added Clearance
SH25LP38
Low-Profile
Channel Screws
Quick-Release T-Nut
8-32 (M4 x 0.7)
Drop-In T-Nut
8-32 (M4 x 0.7)
Low-Profile T-Nut
1/4"-20 (M6 x 1.0)
Drop-In T-Nut
1/4"-20 (M6 x 1.0)
Four T-Nuts
Available
Application Idea
T-Nuts Securely Attach
Optomechanics
Using Rail Channels
LPCEF
Fastener Kit: Quick-Release T-Nuts, Setscrews, and Thumbscrews
XE25H025
Hammerhead
Screws

Please Wait
Features
T-Nuts Fasten Rails to Other Optomechanics
Four T-Nut Choices (See Image Above)
Hammerhead Screws Provide Studs for Direct Mounting
Low-Profile Channel Screws with Smaller Footprint than Standard Cap Screws
Thorlabs' T-nuts, hammerhead screws, and low-profile channel screws are designed to link 25 mm, 50 mm, and 75 mm rails to other optomechanical components.
T-Nuts
T-nuts effectively add 8-32 (M4 x 0.7) or 1/4"-20 (M6 x 1.0) tapped holes to the rail sides, permitting a wide range of standard optomechanics to be fastened to the rails. Our T-nuts are available in three styles—Quick-Release, Drop-In, and Low-Profile—which are detailed in the text below.
Low-Profile Channel Screws in 25 mm Corner Cube
Hammerhead Screws
These screws add 1/4"-20 (M6 x 1.0) studs to optical rails and incorporate a quick-release T-head for direct insertion into a rail slot.
Low-Profile Channel Screws
Low-profile channel screws feature a shortened cap height and conserve space within a setup by allowing the optomechanical components that they attach to be more compact. For example, in our construction cubes, they allow several screws to be in close proximity, as shown to the left.
Posted Comments:
No Comments Posted