Construction Tools for 25 mm Rails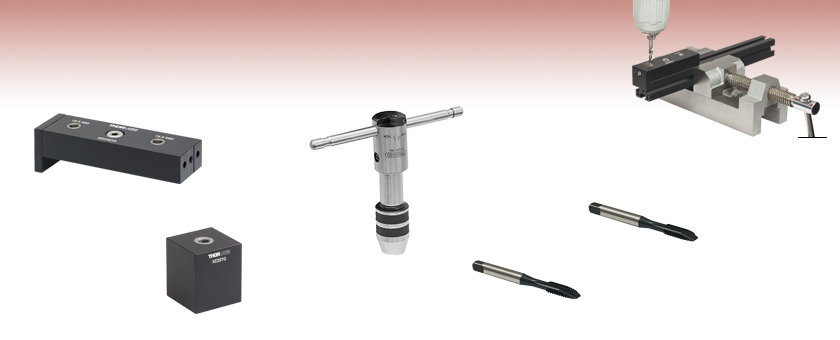 Customize 25 mm Rails in Your Own Machine Shop
Drill Guide Helps Build Rigid, Square Corners
Taps and Tap Guide Make 1/4"-20 and M6-Threaded Holes
XE25DG
XE25TG
TW25
TAP1420
1/4"-20 Tap
TAPM610
M6 x 1.0 Tap
Machine Rails to Exactly
Match Your Application's Needs

Please Wait
Features
Customize Rails to Meet Exact Application Requirements
Drill Guide Helps Form Perfect Corners
Taps, Tap Guide, and Tap Wrench Put Threaded Holes in Custom Locations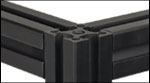 Click to Enlarge
Home-Built 90° Corner
(See
Construction Methods
Tab)
Thorlabs' 25 mm rails form the basis of lightweight, compact mechanical assemblies. In order to deploy these rails in the most demanding applications, we manufacture an assortment of construction tools that aid with "do-it-yourself" customization. These include a drill guide for making sturdy rail corners, a tap guide for making tapped holes on the rail ends, 1/4"-20 (M6) taps, and a tap wrench. Please see the Construction Methods tab for details on how these parts are used. For customers interested in machining and finishing their own rails, we offer a raw 25 mm rail extrusion.
Thorlabs' accessories for assemblies made of 25 mm rails include corner cubes and brackets, T-Nuts, low-profile channel screws, breadboard mounting accessories, rail joiners, and a channel insert. In addition, we offer optical enclosures, enclosure accessories, and laser safety fabric panels for home-built XE25-based constructions.
XE25 Construction Techniques
Thorlabs' XE25 rails and components are the building blocks for many types of modular systems, including custom enclosures. For the most demanding applications, Thorlabs recommends the "direct connection" technique for forming right angles with rails, detailed here.
---
Step 1: Drill Side Holes
---
Step 2: Tap the Center Hole, If Necessary
All stock and custom-length anodized XE25 rails have a 1/4"-20 (M6) tapped hole in the end of the rail. If you have cut a standard XE25 rail, or are using the XE25RL2 Raw Extrusion, you will need to tap a hole into the end of the rail.
For this step, you will need the TAP1420 1/4"-20 Tap (or the TAPM610 M6 Tap), the XE25TG Tap Guide, and the TW25 Hand Tap Wrench.
Fix the tap inside the tap wrench. Place the tap guide block over the end of the rail. The hole in the top of the guide will keep the tap square with the hole and minimize the chance of misthreading. Turn the tap to thread the hole.
---
Step 3: Attach Low-Profile Channel Screw
For this step, you will need a SH25LP38 1/4"-20-threaded (SH6M10LP M6-threaded) Low-Profile Channel Screw and a 1/8" (4 mm) balldriver.
Insert the screw into the threaded hole in the end of the rail, and tighten down partway with the balldriver. If you are making a three-way connection, you will need to thread another channel screw into the end of a second rail.
---
Step 4: Join the Rails
Slide the head of the channel screw into the channel of the rail with the drilled holes, so that the hex head lines up with the hole. Insert the balldriver into the hole, and tighten the channel screw. If making a three-way connection, repeat this process with the third rail, as shown in the figure to the right.
For increased stability, the corners may be reinforced with the XE25A90 Right-Angle Bracket.
Posted Comments:
No Comments Posted