Breadboard Mounting Accessories for 25 mm Rails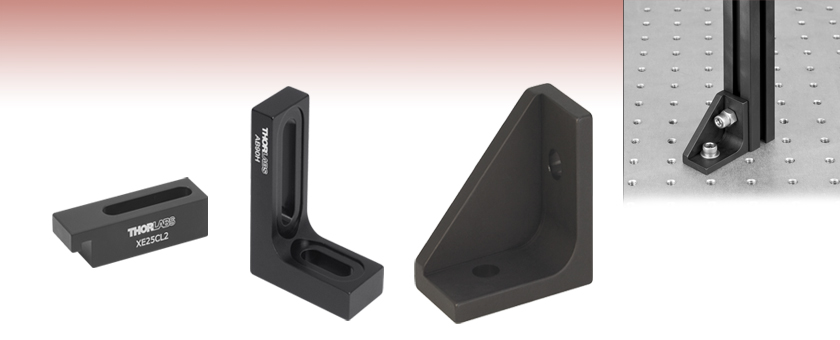 Construct 25 mm Rail Assemblies on Top of Breadboards
Options for Horizontal or Vertical Rail Mounting
XE25CL2
Table Clamp with Slot for 1/4"-20 (M6) Cap Screws
XE25A90
Right Angle Bracket with Counterbored Holes for 1/4"-20 (M6) Cap Screws
Bracket Orients Rail Orthogonal
to Plane of Breadboard
AB90H
Right Angle Bracket with Counterbored Slots for 1/4"-20 (M6) Cap Screws

Please Wait
Features
Mount 25 mm Construction Rails to Breadboards
Table Clamp Mounts Rails Horizontally
Right-Angle Brackets Orient Rails Vertically
Thorlabs provides options for customers who wish to build a 25 mm rail system on top of an optical table or breadboard. The XE25CL2 Table Clamp secures a rail parallel to the breadboard surface, while the XE25A90 and AB90H Right-Angle Brackets mount a rail in a standing position.
Thorlabs' accessories for assemblies made of 25 mm rails include corner cubes and brackets, T-Nuts, low-profile channel screws, breadboard mounting accessories, rail joiners, and a channel insert. In addition, we offer optical enclosures, enclosure accessories, laser safety fabric panels, and do-it-yourself tools like taps, tap guides, and drill guides for home-built XE25-based constructions.
Posted Comments:
No Comments Posted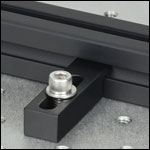 Click to Enlarge
Mount 25 mm Rails Horizontally on an Optical Table or Breadboard
1" (25.4 mm) Long Clearance Slot for 1/4"-20 or M6 Screws
Insert Anywhere Along Rail
The XE25CL2 Table Clamp mounts a 25 mm rail horizontally to a 1/4"-20 or M6 tapped surface by using a rail channel. It holds the rail in place using a side-located rail channel, while leaving the top rail channel free to accept enclosure panels or T-Nuts. The clamp features a 1" (25.4 mm) long clearance slot compatible with 1/4"-20 and M6 screws, providing mounting for imperial and metric tables.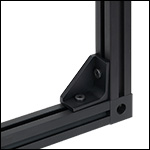 Click to Enlarge
Reinforced Corner

Click to Enlarge
Enclosure Bolted to Optical Table
Brace 25 mm Rail Corners or Mount Rails Vertically
One-Piece Aluminum Construction for Excellent Rigidity
For Use with 1/4"-20 (M6) Cap Screws
The AB90H and XE25A90 Right-Angle Brackets can be used to fasten 25 mm rails to each other using a T-Nut (sold separately) or to an optical table. Both intended for use with 1/4"-20 (M6) cap screws and washers, the AB90H has a total of two 1/4" wide slots of lengths of 1" (25.4 mm) and 0.5" (12.7 mm), allowing for additional flexibility in positioning the rails on a breadboard, while the XE25A90 has two counterbored holes.
These brackets are ideal for fastening our optical enclosures to an optical table or breadboard.