Variable Fiber Optical Attenuators, Single Mode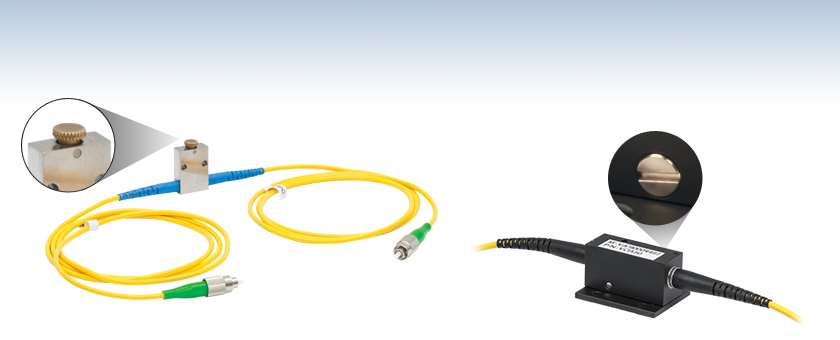 Single Mode, In-Line Variable Fiber Optic Attenuators
Up to 50 dB Attenuation
Narrowband or Dual-Band VOA Models for 630 - 1550 nm
Available With No Connectors, FC/PC Connectors, or FC/APC Connectors
Adjustment Screw
Located on Backside
VOA50
Dual Band VOA
VOA850-APC
Narrowband VOA
Adjustment Screw
Located on Top

Please Wait
Features
Bi-Directional, In-Line Variable Fiber Optical Attenuators (VOA)
Narrowband VOA Models for 630 nm, 780 nm, 850 nm, 980 nm, and 1064 nm Operating Wavelengths
Dual-Band VOA Models for 1310 / 1550 nm
Collimator-Based Manually Variable Attenuation
1 m Long Single Mode Fiber Pigtail on Each Side
Thorlabs' Single Mode Variable Optical Attenuators allow the user to manually vary the attenuation of the signal in the fiber as it is transmitted through the device. These VOAs can be used to to precisely balance the signal strengths in fiber circuits or to balance an optical signal when evaluating the dynamic range of the measurement system. The maximum specified attenuation is achieved within 10 turns of the adjustment screw. Please see the Attenuation Data tab for more information.
All in-line VOAs have single mode fiber pigtails with a Ø3 mm jacket. The VOAs are offered unterminated or terminated with 2.0 mm narrow key FC/PC or FC/APC connectors. For other connector styles or custom requests, please contact Technical Support.
Each attenuator has a lens to collimate the light from the input fiber. A blocking device or window can be manually adjusted by a screw (see schematics below). Then, a second lens is used to couple light into the output fiber. Thus, the coupling efficiency is changed until the desired attenuation is obtained.
Narrowband VOAs

Dual Band VOAs

Attenuation Range
Shown below is a sample attenuation curve obtained by testing the VOA630-FC. The device was tested with the adjustment screw in the closed position (blocking the light). The screw was then turned counterclockwise in quarter turns until the attenuation spec was met. Please note: changes in turning direction may cause a small offset in attenuator position due to backlash.

This is our selection of narrowband single mode variable optical attenuators. For our dual-band single mode VOA models, please see below.
FC/PC Connectors
VOA630-FC
VOA780-FC
VOA850-FC
VOA980-FC
VOA1064-FC
FC/APC Connectors
VOA630-APC
VOA780-APC
VOA850-APC
VOA980-APC
VOA1064-APC
Operating Wavelength
630 nm
780 nm
850 nm
980 nm
1064 nm
Wavelength Range
620 - 650 nm
760 - 800 nm
830 - 870 nm
960 - 1000 nm
1044 - 1084 nm
Attenuation Range
3.0 - 50 dB
2.1 - 50 dB
1.8 - 50 dB
1.5 - 50 dB
1.3 - 50 dB
Attenuation Resolution
0.15 dB (Typical)
% Transmission Range
0.001 - 50.1%
0.001 - 61.7%
0.001 - 66.1%
0.001 - 70.8%
0.001 - 74.1%
Insertion Loss
≤3.0 dB
≤2.1 dB
≤1.8 dB
≤1.5 dB
≤1.3 dB
Return Loss
≥40 dB
Max Power
300 mW
Operating Temperature
0 to 70°C
Storage Temperature
-40 to 85°C
Fibera
SM600
HI780
SM800
HI1060
HI1060
Dimensions
26 mm x 18 mm x 8 mm
1 m Fiber Pigtail on Each Side

Item #
VOA50
VOA50-FC
VOA50-APC
Termination
None
FC/PC
FC/APC
Operating Wavelengths
1310 ± 20 nm / 1550 ± 20 nm
Attenuation Range
1.5 - 50 dB
Attenuation Resolution
0.1 dB (Typical)
% Transmission Range
0.001 - 70.8%
Insertion Loss
≤1.5 dB
Return Loss
>55 dB
PDL
<0.2 dB
Max Power
300 mW
Operating Temperature
0 to 60 °C
Storage Temperature
-40 to 85 °C
Fiberb
SMF-28e
Dimensions
38 mm x 30 mm x 19 mm
1 m Fiber Pigtail on Each Side