Right-Angle Kinematic Mounts for Elliptical Mirrors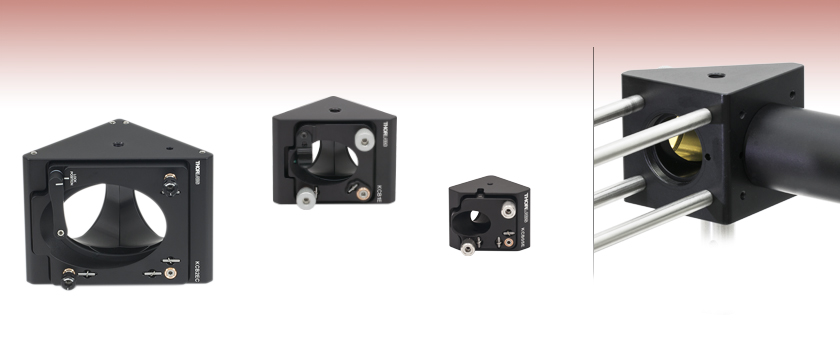 Kinematic Mounts for 1/2", 1", and 2" Elliptical Mirrors
Cage System, Lens Tube, and Post Mount Compatible
±3° or ±4° of Kinematic Pitch/Yaw Adjustment
KCB2EC
Holds 2" Elliptical Optics
KCB1E
Holds 1" Elliptical Optics
KCB05E
Holds 1/2"
Elliptical Optics
Elliptical Mirror Mounts are Cage
System and Lens Tube Compatible
Application Idea

Please Wait
The KCBxE(/M) and KCBxEC(/M) elliptical mirror mounts divert a beam 90°, while the elliptical optic maintains a circular aperture.
Item #
KCB05E(/M)
KCB1E(/M)
KCB1EC(/M)
KCB2EC(/M)
Elliptical Mirror Size
1/2"
1"
2"
Lens Tube Compatibility
SM05
SM1
SM2
Cage System Compatibility
16 mm
30 mm
60 mm
Cage Rod Mounting
Tapped Holes
Smooth Bores
Features
Mount Elliptical Optics at 45° with Pitch/Yaw Adjustment
Z-Translation Possible Using Third Hex Adjuster
Versions Available to Mount a 1/2", 1", or 2" Elliptical Optic
Taps for Post Mounting
Fabricated from Black Anodized Aluminum
Right-Angle Kinematic Mounts for Elliptical Mirrors allow elliptical optics to be mounted at a 45° angle within a cage system or lens tube system. Elliptical optics have the advantage of a circular aperture when mounted at 45°. The KCB05E(/M) and KCB1E(/M) feature tapped holes for cage rods on both the entrance and exit ports, while KCB1EC(/M) and KCB2EC(/M) feature smooth bores for cage rods. All of these mounts have SM-threaded entrance and exit holes for lens tube integration.
The eight right-angle mounts listed below are sized to incorporate 1/2", 1", or 2" elliptical optics within a 16 mm, 30 mm, or 60 mm cage system, respectively. These mounts are compatible with our dielectric and metallic elliptical mirrors. We also offer Fixed 45° Mounts for our 1" and 2" elliptical mirrors.