Small Optic Mounting Adapters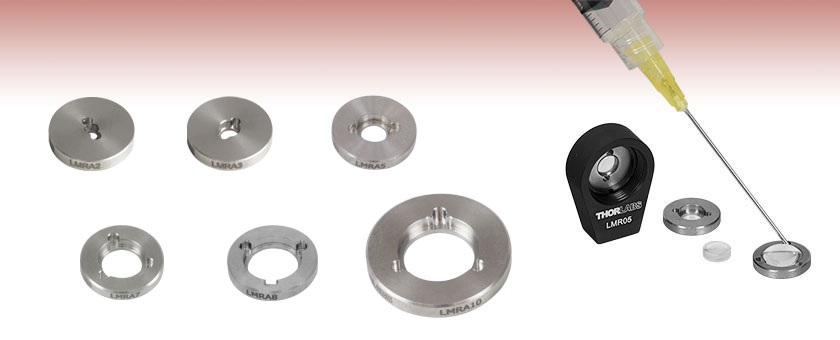 Stainless Steel Adapters for Ø2 to Ø10 mm Optics
Outer Diameters of 1/2" or 18 mm Available
Optics Secured in Adapter with Epoxy
LMRA2
Adapts Ø2 mm Optics to Ø1/2" Mounts
LMRA3
Adapts Ø3 mm Optics to Ø1/2" Mounts
LMRA5
Adapts Ø5 mm Optics to Ø1/2" Mounts
LMRA7
Adapts Ø7 mm Optics to Ø1/2" Mounts
LMRA8
Adapts Ø8 mm Optics to Ø1/2" Mounts
LMRA10
Adapts Ø10 mm Optics to Ø18 mm Mounts
Application Idea
Epoxy is used to affix optics to our small-optic adapters which are then mounted in an LMR05 mount.

Please Wait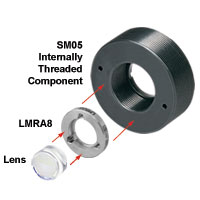 Click to Enlarge
An Ø8.0 mm lens is epoxied into an LMRA8 Adapter and then inserted into an internally SM05-threaded component.
Features
Mounts Non-Standard Optics into Our Standard Threaded Ø1/2" Optic Mounts
Ø1/2" Adapters are Compatible with SM05 Lens Tubes
LMRA10 Adapter Mounts into Ø18 mm Optic Mounts
Mounts for Ø2 mm, Ø3 mm, Ø5 mm, Ø6 mm, Ø6.35 mm, Ø7 mm, Ø7.4 mm, Ø8 mm, Ø9 mm, or Ø10 mm Optics
Glue Ports Provided to Secure Optic into Housing
Thorlabs' small-optic mounting adapters are designed to mount non-standard optic sizes into Ø1/2" or Ø18 mm Mounts. Each stainless steel adapter includes two or three reservoirs next to the lens cell to secure the lens in place with General Purpose or UV Curing epoxy. Simply place a drop or two of adhesive into each reservoir located next to the lens in the adapter. We recommend using our NOA61 UV curing adhesive and MS403-10 epoxy syringe.
The Ø1/2" Optic Mounting Adapters featured below are compatible with our LMR05 (LMR05/M) or MLH05 (MLH05/M) Lens Mounts, SM05 Lens Tubes, or 16 mm Cage Components. The LMRA10 is compatible with our LMR18 (LMR18/M) mount, AD18T adapter, or SM1AD18 adapter. Please see the table below for all compatible mounting options. Once the optic is secured in the small-optic adapter, the new assembly is held in one of these threaded mounts using an SM05RR or SM18RR Retaining Ring.
Alternatively, Thorlabs offers internally threaded, post-mountable fixed mounts, which do not require the optics to be epoxied into place, for mounting optics from Ø5 mm to Ø4".
Incorporating Small Optics into Lens Tube Systems
In addition to providing a means for mounting small optics in our LMR series of lens mounts, the LMRA series of adapters (with the exception of LMRA10) are directly compatible with our SM05 Series Lens Tubes, making it possible to insert Ø2 - Ø9 mm optics into a lens tube system.
Item #
Optic Diameter
Clear Aperture
Outer Diameter
Thickness
Compatible Mounts
Typ.
Max
LMRA2
2 mm
2.05 mm
Ø1.8 mm (Ø0.07")
12.7 mm
(1/2")
2.2 mm
(0.09")
MLH05 Lens Mount
LMR05 Lens Mount
SM05 Lens Tubes
16 mm Cage Components
LMRA3
3 mm
3.05 mm
Ø2.4 mm (Ø0.11")
LMRA5
5 mm
5.05 mm
Ø3.8 mm (Ø0.15")
LMRA6
6 mm
6.07 mm
Ø4.8 mm (Ø0.19")
LMRA6.35
6.35 mm
6.4 mm
Ø5.4 mm (Ø0.21")
LMRA7
7 mm
7.03 mm
Ø6.0 mm (Ø0.24")
LMRA7.4
7.4 mm
7.41 mm
Ø6.4 mm (Ø0.25")
LMRA8
8 mm
8.02 mm
Ø7.0 mm (Ø0.28")
LMRA9
9 mm
9.01 mm
Ø7.9 mm (Ø0.31")
LMRA10
10 mm
10.03 mm
Ø8.8 mm (Ø0.35")
18 mm
(0.71")
2.5 mm
(0.10")
LMR18 Lens Mount
AD18T Adapter
SM1AD18 Adapter