General Specifications
Substrate
B270 Optical Crown Glass
Wavelength Range
Uncoated: 380 - 2100 nm
A: 350 - 700 nm
B: 650 - 1050 nm
Reflectance Over AR Coating Range
for Coated Optics (Avg., AOI = 0°)

R

avg

< 0.5%

Focal Length Tolerance
±8%
Design Wavelength
Visible
Surface Quality (Asphere Side)
80-50 Scratch-Dig
Uncoated Transmission Graph
(Click Here to Download Raw Data)
A Coating Reflectance Graph
(Click Here to Download Raw Data)
B Coating Reflectance Graph
(Click Here to Download Raw Data)
Diameter Tolerance
+0.0 mm / -0.5 mm
Center Thickness Tolerance
±0.3 mm
Centration
<30 arcmin
Temperature (Max)
250 °C (482 °F)
Click to Enlarge
Light from an LED Collimated by a Non-Diffusing Condenser Lens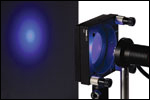 Click to Enlarge
Light from an LED Collimated by a Condenser Lens with a Diffuser Surface
Features
Combines a Condenser and a Diffuser into a Single, Compact Optic
25 mm and 50 mm Diameters Available
600 or 1500 Grit Polished Versions Available
20 mm or 40 mm Focal Length Versions Available
Available Uncoated or AR-Coated for 350 - 700 nm or 650 - 1050 nm on Aspheric Surface
Offers Higher NA and Larger Aperture than Spherical Lenses
Thorlabs' Aspheric Condenser Lenses with Diffusers are designed for collimating light from lamps, LEDs, or similar sources into a highly uniform illumination pattern. We offer two sizes (Ø25 mm and Ø50 mm) to accommodate varying application needs. These lenses are available in either 600 grit or 1500 grit polished versions. A finer grind (e.g., 1500 grit) provides a higher transmittance, while a more coarse grind (e.g,. 600 grit) creates a greater amount of diffusion at the expense of transmission. These aspheric condenser lenses are available uncoated for use in the 380 - 2100 nm range or with an AR coating for the 350 to 700 nm (-A Coating) or 650 to 1050 nm (-B Coating) range. For reflectance plots, please see the table to the right.
When collimating high-power LEDs with a standard lens, the structure of the source can ultimately be imaged through the lens, resulting in a highly non-uniform illumination pattern (see the top image on the right). For many applications, this is not desired. Adding a diffuser on the plano surface ensures a uniform illumination of the light source in the far field (see the bottom image on the right).
The aspheric surface is precision molded on the aspheric side and polished with 600 or 1500 grit on the plano side. Polished diffusers are advantageous over sand blasted diffusers as the surface has greater uniformity.
Thorlabs offers many types of mounting solutions for these lenses. Extra-thick retaining rings are available with SM1 (1.035"-40) and SM2 (2.035"-40) threading that provide extra clearance for spanner wrenches when mounting these lenses (see the Lens Mounting Guide tab for more information). Please visit our Fixed Optic Mounts Guide and Mirror Mounts Guide for possible mouting options available.
Aspheric Lens Design Equation

Item #
Prefixa
ACL2520U
ACL5040U
R (mm)
10.462
20.923
k
-0.6265
-0.6405
A2
0
0
A4
1.5E-5
2.0E-6
A6
0
0
A8
0
0
A10
0
0
A12
0
0
S2b Radius
(mm)
Plano
Plano
Thorlabs' retaining rings are used to secure unmounted optics within lens tubes or optic mounts. These rings are secured in position using a compatible spanner wrench. For flat or low-curvature optics, standard retaining rings manufactured from anodized aluminum are available from Ø5 mm to Ø4". For high-curvature optics, extra-thick retaining rings are available in Ø1/2", Ø1", and Ø2" sizes.
Extra-thick retaining rings offer several features that aid in mounting high-curvature optics such as aspheric lenses, short-focal-length plano-convex lenses, and condenser lenses. As seen in the animation to the right, the guide flange of the spanner wrench will collide with the surface of high-curvature lenses when using a standard retaining ring, potentially scratching the optic. This contact also creates a gap between the spanner wrench and retaining ring, preventing the ring from tightening correctly. Extra-thick retaining rings provide the necessary clearance for the spanner wrench to secure the lens without coming into contact with the optic surface.