Rear-Loaded, Clear-Quadrant Kinematic Mirror Mounts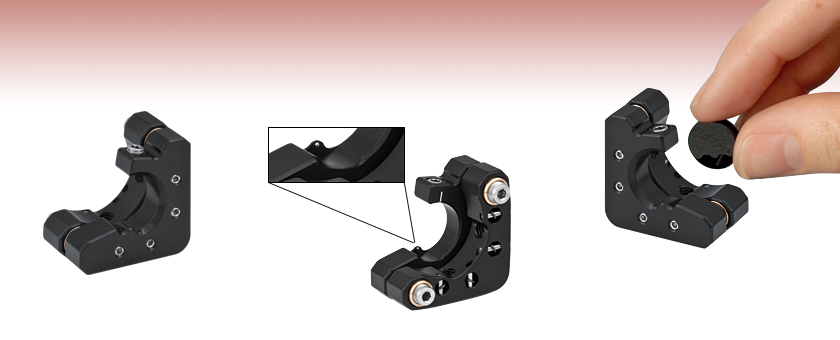 Mounts Ø1/2" Optics
Design Allows Optic to be Reinserted with High Degree of Repeatability
Ideal for Application in Laser Cavity
KM05FR
Front View
Single Point/Stop for
Precise Mirror Positioning
KM05FL
Back View
KM05FL
Front View

Please Wait
Features
Angular Adjustment Range: ±2°
Adjuster Provides 13 mrad/rev
Height of Center of Mirror: 0.58" (14.7 mm)
Back Surface Engraved for Realignment of Removed Optics
Fabricated from Black Anodized Aluminum
Post-Mountable via 8-32 (M4) Mounting Hole
These multi-functional clear-quadrant mirror mounts load Ø1/2" (12.7 mm) mirrors from the back side of the front plate to ensure that the optic can be reinserted with a high degree of repetition. The single point of contact at the front of the mount, which is shown in the detail image above, is a kinematic stop against which the front surface of the mirror rests while locked by a nylon-tipped setscrew. The witness line on the back side of the mount makes it possible to rotationally orient the optic with a user-inscribed mark on the back side of the mirror. These mounts feature 3/16"-100 TPI adjusters. The HKTS-5/64 hex adjuster can be used as a temporary adjuster knob, and the LN19100 bronze locking nut is available to lock the adjusters once the desired position is reached.
These mounts are also recommended for use in tight spaces; one side of the mount has been machined away to prevent potential obstruction to the beam path. The rear-loaded mounts are ideal for use in laser cavities, since the mirror can be removed without disturbing the alignment of the cavity.
For applications requiring low drift and low distortion, Thorlabs offers Polaris™ Low-Distortion Mirror Mounts. These mounts approximate a clear quadrant design due to the unobstructed mirror edge. Thorlabs also offers a variety of other two and three adjuster mirror mounts including our other high-stability Polaris™ Mirror Mounts.