Banana Patch Cords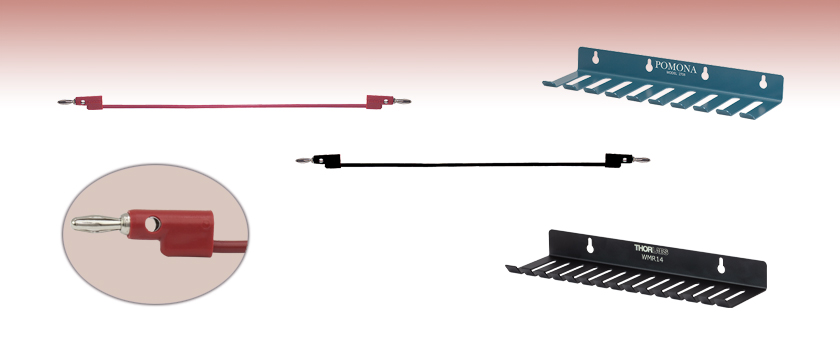 Stackable Banana Plug Connectors
Red or Black Patch Cords
T13122
T13120
T2708
(9 Slots)
WMR14
(14 Slots)

Please Wait
This page contains the four banana plug patch cords sold by Thorlabs. The links in the table below will take you to web pages that contain our other varieties of electrical cables.
Posted Comments:
No Comments Posted

Available in 12" and 24" Lengths
Available in Red or Black


Click to Enlarge
Wall Mount Cable Racks
Store Cables Straight and Untangled
WMR14 is Ideal for Fiber Optic Patch Cables
The WMR14 is a test lead holder for wires up to 0.210" (5.33 mm) in diameter and has 14 slots for cables. It is ideal for holding fiber optic patch cables.
The T2708 is a test lead holder for wires up to 0.450" (11.43 mm) in diameter and has 9 slots for cables.
The cable racks are made from cold rolled steel with a baked enamel finish. The wall mounting holes are separated by 6.63" (168.3 mm) for the WMR14, and 3" (76.2 mm) for the T2708. Both racks are 11" (279 mm) long and extend outward from the
wall by 3.5" (88.9 mm).