Key Specificationsa
Travel Range
25 mm (0.98")
Velocity (Max)
2.4 mm/s
Min Achievable Incremental Movementb
0.05 µm
Bidirectional Repeatabilityc
1.6 µm
Backlashd
<6 µm
Horizontal Load Capacity (Max)
25 lbs (12 kg)
Vertical Load Capacity (Max)
10 lbs (4.5 kg)
Included Actuator
Built-In DC Motor
Cable Length
500 mm (1.64 ft)
Required Controller
KDC101
Features
25 mm (0.98") Travel Range
Carriage Contains One Centered 8-32 (M4) Tap and Eighteen 4-40 (M3) Taps
Low-Profile Package Combines Actuator and Moving Platform
DC Servo Motor Actuator
Several Mounting Adapters Available

Base Plate for Breadboard Mounting
Mounting Adapter Plate for Standard Optical Accessories, Provides Seven 1/4"-20 (M6) and Six 8-32 (M4) Tapped Holes
XY Mounting Adapter
Right-Angle Bracket for Vertical Mounting
Adapter for 60 mm Cage Systems
Thorlabs' MTS25-Z8 (MTS25/M-Z8) Motorized Translation Stage provides 25 mm (0.98") of electronically controlled linear travel along a well-defined axis. Each stage is equipped with a 1.50" x 1.50" (37.5 mm x 37.5 mm) tapped hole matrix that includes eighteen 4-40 (M3) taps and a centered 8-32 (M4) tap. By integrating the moving platform with the actuator, the overall package size is greatly reduced relative to standard motorized stages like the PT1-Z8 Motorized Stage.
The moving platform contains holes for alignment pins that ensure orthogonality when the stage is stacked with other stages or connected to our accessories. Horizontal loads of 25 lbs (12 kg) and vertical loads of 10 lbs (4.5 kg) are supported by the 67:1 planetary gear head. A built-in Hall Effect encoder provides a resolution of 29 nm (see the Specs tab for additional details).
The translation mechanism, based upon a dual set of linear rails with continuously recirculating ball bearings, provides smooth, low-friction movement. Built-in limit switches prevent travel outside of the intended range, regardless of the control interface being used.
Mounting Adapters and Stage Combinations
Thorlabs' adapter plates and brackets provide a convenient way to mount the MTS25-Z8 on an optical table or breadboard; to install a motor along the optical axis of our 60 mm cage systems; and to allow several stages to be combined in XY, XZ, or XYZ configurations. A multi-hole adapter plate is also available that offers seven 1/4"-20 (M6) and six 8-32 (M4) tapped holes, providing more options when mounting standard optical accessories to the top platform. Our MTS50-Z8 50 mm (1.97") Motorized Translation Stage can be also be combined with the MTS25-Z8 in certain arrangements. All of these options are described in greater detail below.
Controller Options
The KDC101 DC Servo Motor Controller and a 15 V power supply, sold separately below, are required to operate these stages. Alternatively, we offer the KMTS25E bundle, which includes the MTS25-Z8 translation stage, the KDC101 DC Servo controller, and a KPS101 power supply at a significant savings over ordering these items separately.
The KDC101 provides control for a single axis, with or without a PC. It is bundled with Thorlabs' Kinesis® software, which supplies out-of-the-box stage control from a PC and enables support for common programming interfaces like LabVIEW and LabWindows. A USB cable is included with the KDC101.
Thorlabs also manufactures the PT1-Z8 Motorized Translation Stage, which features a larger mounting surface for even more flexibility.
Motor Specifications
Motor Type
DC Servo
Nominal Voltage
6 V
No Load Speed
6560 rpm
No Load Current
7.43 mA
Nominal Speed
1050 rpm
Nominal Torque (Maximum Continuous Torque)
1.26 mN•m
Nominal Current (Maximum Continuous Current)
0.156 A
Stall Torque
1.54 mN•m
Starting Current
0.184 A
Maximum Efficiency
65%
Terminal Resistance
32.7 Ω
Terminal Inductance
0.607 mH
Torque Constant
8.38 mN•m/A
Speed Constant
1140 rpm/V
Speed / Torque Gradient
4450 rpm/mN•m
Mechanical Time Constant
13.9 ms
Rotor Inertia
0.298 g•cm2
Feedback
Hall Effect Encoder
Stage Specifications
Translation
Travel Range
25 mm (0.98")
Bidirectional Repeatabilitya
1.6 µm
Backlashb
<6 µm
Min Achievable Incremental Movementc
0.05 µm
Min Repeatable Incremental Movementd
0.8 µm
Home Location Accuracy
±4.0 µm
Resolution
29 nm (See Calculation Below)
Motion Parameters
Velocity (Max)
2.4 mm/s
Velocity Stability
±0.25 mm/s
Acceleration (Max)
4.5 mm/s2
Load Capacity
Vertical Load
Recommended:e <4.0 kg (<8.8 lbs)
Max: 4.5 kg (10 lbs)
Horizontal Load
Recommended:e <10 kg (<22 lbs)
Max: 12 kg (25 lbs)
Straightness
Pitch
<0.04° (<698 µrad)
Yaw
<0.05° (<872 µrad)
Absolute On-Axis Accuracy
145 µm
Percentage Accuracy (Max)
0.3%
Physical
Dimensions
5.31" x 1.69" x 0.87"
(134.9 mm x 42.9 mm x 22.1 mm)
Weight
0.31 kg (0.68 lb)
Cable Length
0.5 m (1.6 ft)
Resolution Calculation
For the MTS25-Z8 (MTS25/M-Z8), there are 512 encoder counts per revolution of the motor. The output shaft of the motor goes into a 67:1 planetary gear head. This requires the motor to rotate 67 times to rotate the 1.0 mm pitch lead screw one revolution. The end result is the lead screw advances by 1.0 mm.
The linear displacement of the actuator per encoder count is given by
512 x 67 = 34,304 encoder counts per revolution of the lead screw,
whereas the linear displacement of the lead screw per encoder count is given by
1.0 mm / 34,304 counts = 2.9 x 10-5 mm (29 nm).
Motor Connector
D-Type Male

Pin
Description
Pin
Description
1
Ground/Return
9
Ident
2
Forward Limit Switch
10
Vcc
3
Reverse Limit Switch
11
Encoder A
4
Reserved for Future Use
12
Reserved for Future Use
5
Motor -
13
Encoder B
6
Reserved for Future Use
14
Reserved for Future Use
7
Motor +
15
Reserved for Future Use
8
Reserved for Future Use
Thorlabs offers two platforms to drive our wide range of motion controllers: our Kinesis® software package or the legacy APT™ (Advanced Positioning Technology) software package. Either package can be used to control devices in the Kinesis family, which covers a wide range of motion controllers ranging from small, low-powered, single-channel drivers (such as the K-Cubes™ and T-Cubes™) to high-power, multi-channel, modular 19" rack nanopositioning systems (the APT Rack System).
The Kinesis Software features .NET controls which can be used by 3rd party developers working in the latest C#, Visual Basic, LabVIEW™, or any .NET compatible languages to create custom applications. Low-level DLL libraries are included for applications not expected to use the .NET framework. A Central Sequence Manager supports integration and synchronization of all Thorlabs motion control hardware.

Kinesis GUI Screen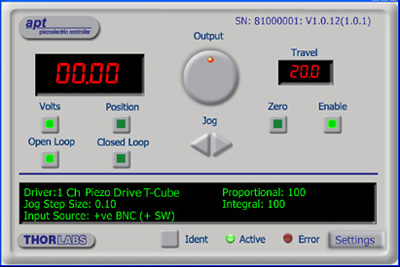 APT GUI Screen
Our legacy APT System Software platform offers ActiveX-based controls which can be used by 3rd party developers working on C#, Visual Basic, LabVIEW™, or any Active-X compatible languages to create custom applications and includes a simulator mode to assist in developing custom applications without requiring hardware.
By providing these common software platforms, Thorlabs has ensured that users can easily mix and match any of the Kinesis and APT controllers in a single application, while only having to learn a single set of software tools. In this way, it is perfectly feasible to combine any of the controllers from single-axis to multi-axis systems and control all from a single, PC-based unified software interface.
The software packages allow two methods of usage: graphical user interface (GUI) utilities for direct interaction with and control of the controllers 'out of the box', and a set of programming interfaces that allow custom-integrated positioning and alignment solutions to be easily programmed in the development language of choice.
A range of video tutorials is available to help explain our APT system software. These tutorials provide an overview of the software and the APT Config utility. Additionally, a tutorial video is available to explain how to select simulator mode within the software, which allows the user to experiment with the software without a controller connected. Please select the APT Tutorials tab above to view these videos.
Software
Kinesis Version 1.14.24
The Kinesis Software Package, which includes a GUI for control of Thorlabs' Kinesis and APT™ system controllers.
Also Available:

These videos illustrate some of the basics of using the APT System Software from both a non-programming and a programming point of view. There are videos that illustrate usage of the supplied APT utilities that allow immediate control of the APT controllers out of the box. There are also a number of videos that explain the basics of programming custom software applications using Visual Basic, LabView and Visual C++. Watch the videos now to see what we mean.
To further assist programmers, a guide to programming the APT software in LabView is also available.
The table below compares the key specifications of our 25 mm (0.98") linear translation stages. Additional specifications are listed in the Specs tab on the webpage of the particular stage.
Item #
MTS25-Z8 (MTS25/M-Z8)
PT1-Z8 (PT1/M-Z8)
LNR25ZFS
Travel Range
25 mm (0.98")
25 mm (0.98")
25 mm (0.98")
Calculated Minimum Incremental Motion
29 nm
29 nm
0.46 nm
Bidirectional Repeatability
1.6 µm
<1.5 µm
3.0 µm
Absolute On-Axis Accuracy
145 µm
<130 µm
15 µm
Horizontal Load Capacity (Max)
25 lbs (12 kg)
20 lbs (9 kg)
5 kg (11 lbs)
Vertical Load Capacity (Max)
10 lbs (4.5 kg)
10 lbs (4.5 kg)
0.5 kg (1.1 lbs)
Velocity (Max)
2.4 mm/s
2.6 mm/s
2.0 mm/s
Mounting Features
Eighteen 4-40 (M3) Taps and
One 8-32 (M4) Tap
Sixteen 1/4"-20 (M6) Taps and
Two 1/4" (M6) Counterbores
Seven 1/4"-20 (M6) Taps and
Two 1/4" (M6) Counterbores
Included Actuator
Built-In DC Servo
Z825B DC Servo
ZFS25B Stepper Motor
Cable Length
500 mm (1.64 ft)
500 mm (1.64 ft)
600 mm (2 ft)
Physical Dimensionsa (L x W x H)
5.31" x 1.69" x 0.87"
(134.9 mm x 42.9 mm x 22.1 mm)
9.89" x 3.00" x 0.80"
(251.2 mm x 76.2 mm x 20.3 mm)
5.24" x 3.74" x 0.79"
(133.0 mm x 95.0 mm x 20.0 mm)