Variable Polarization Beamsplitter Kits
Splits Polarized Light into Two Paths
Mechanically and Thermally Stable
Continuously Variable Split Ratio from 0 to 30 dB
FiberPort Accepts FC/PC and FC/APC Patch Cables
(3 Places)
PFS-FFT-1X2-1550
Kit for 1200 - 1600 nm
PFS-FFT-1X2-780
Kit for 700 - 1000 nm

Please Wait
These kits are shipped partially assembled but not aligned. Fiber patch cables can be purchased separately.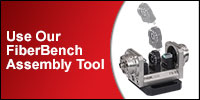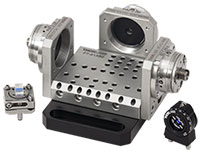 Click to Enlarge
These beamsplitter kits are shipped with their polarizing beamsplitters and half-wave plates packaged seperately.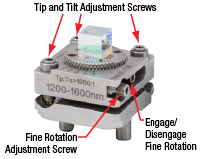 Click to Enlarge

The polarizing beamsplitters are mounted on a kinematic base with tip, tilt, and fine rotation adjustment screws.
Features
Power is Fiber Limited to 10 W (CW, Typical)
Constructed Using FiberBench Accessories
Continuously Variable Split Ratio
Useful as a Variable 1 x 2 Coupler
Compatible with FC/PC and FC/APC Patch Cables
Extinction Ratio

Tp:Ts > 1000:1
Rs > 99.5%

700 - 1000 nm or 1200 - 1600 nm Operating Range
Please Contact Tech Support for Other Wavelengths or Custom-Aligned Kits
These Variable Polarization Beamsplitter Kits are based on Thorlabs' FT-51X60 Multi-Axis FiberBench. A PM fiber can be attached to the input FiberPort, which collimates the output. The FiberPorts included with these kits have wide key slots. The polarization of this beam is then rotated with a half-wave plate. By changing the orientation of the wave plate, the ratio of the vertical to horizontal State of Polarization (SOP) is changed, which then affects how much signal is transmitted and reflected through the polarizing beamsplitter cube.
These beamsplitters have extinction ratios of >1000:1 (TP:TS). The average p-component transmission is >90% while the average s-component reflectance is >99.5% for each beamsplitter. Please see the Graphs tab for more information. The split ratio is continuously variable from 0 to 30 dB and is dependent on the polarization extinction ratio from the input PM fiber and the spectral line width when Δλ ≤ 3 nm.
Assembly
These kits include all the hardware needed for assembly and adjustment. To assemble, insert the dowel pins of the half-wave plate and beamsplitter module into the desired slots on the FiberBench; lock their positions using the 2-56 set screws and 0.9 mm hex key. The beamsplitter cube can be aligned using four 0.050" hex adjustment screws, which can then be locked in place using their locking collars and the included SPW403 spanner wrench. The X, Y, and Zθ adjusters for each FiberPort also accept the 0.050" hex key. The sensitivity of the X and Y adjusters can be varied using the two holes located on the faceplate of the FiberPorts and the 0.028" hex key. The orientation of each FiberPort may be locked using the included 0-80 locking screws and the 0.050" hex key. Care must be taken when locking the FiberPort to avoid misalignment or damage. In most cases locking is not required. Please reference the FiberPort Manual for instructions. The rotation of the half-wave plate may be locked using the screw located at the top of the wave plate and the 0.050" hex key.
PFS-FFT-1X2-780 FiberBench Variable Polarization Beamsplitter Kit, 700 - 1000 nm
---
PFS-FFT-1X2-1550 FiberBench Variable Polarization Beamsplitter Kit, 1200 - 1600 nm