SM Series Angled Optic Mounts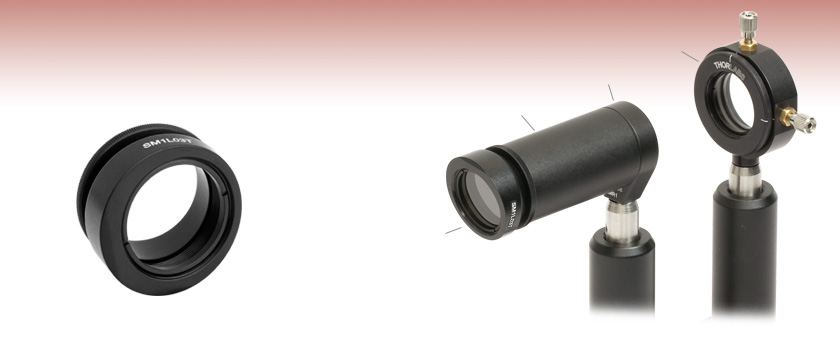 10° Angle Reduces Etalon Effects on Plano-Plano Optics
Eliminate Back Reflections
Accepts Optics up to 5 mm Thick
SM1L03T
SM1L03T
SM1L20
SMR1
LM1XY

Please Wait
Features
Mounts Ø1" Optics at 10° Angle
Reduces Back Reflections and Etalon Effects in Plano-Plano Optics
Accepts Optics up to 5 mm Thick
SM1 (1.035"-40) Threaded
SM1RR Retaining Ring Included
SM1NT Locking Nut Included
The SM1L03T Angled Optic Mount is designed to minimize back reflections occurring from a Ø1" optical window by mounting it at a fixed, 10° angle. This mounted angle also helps reduce the etalon effects present in optics with parallel surfaces. The SM threading on the rear side allows the mount to be easily coupled to a Ø1" lens tube. Using our SM1 thread adapters, the mount can also be added to a Ø1/2", Ø2", or Ø3" lens tube setup. This mount accommodates optics up to 5 mm thick, making it compatible with many of our flat windows.
The etalon effect occurs when the front and back surfaces of a window or filter create Fresnel reflections that interfere with the original beam. Tilting a window with an angled optic mount reduces the etalon effect, and the output from the window or filter contains less interference, giving a smoother, more accurate baseline of the source.
Since the beam exiting the angled window is displaced as a function of the thickness of the window and its material, Thorlabs recommends using the angled optic mount together with an XY Translating Mount such as the LM1XY to offset this displacement.