Screw Thread Adapters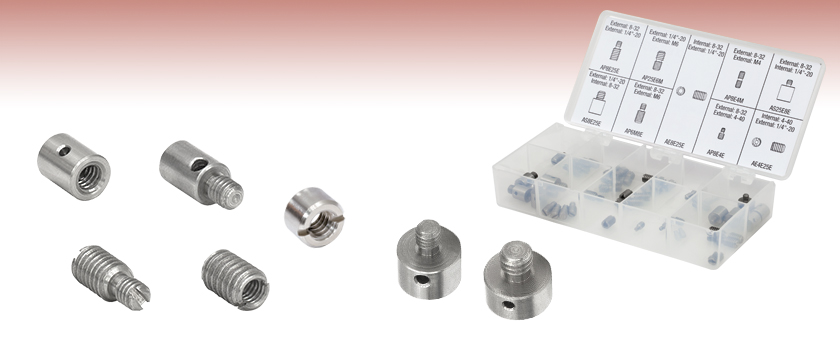 Imperial, Metric, and Imperial-Metric Adapters
M3, M4, M6, 4-40, 6-32, 8-32, and 1/4"-20 Thread Adapters
Useful for Mounts, Posts, and Post Holders
Two Types of Counterbore Adapters
AI25E8E
Internal 8-32
Internal 1/4"-20
AS4M8E
Internal M4 x 0.7
External 8-32
CBA25E
1/4"-20 Thread
0.40" Outer Diameter
AE8E25E
Internal 8-32
External 1/4"-20
AP6M8E
External M6 x 1.0
External 8-32
MSA8
Internal 4-40
External 8-32
MSA25
Internal 4-40
External 1/4"-20
HW-KIT6
Thread Adapter Kit

Please Wait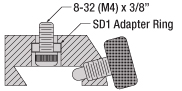 Rail Carrier Cross Section with SD1 Counterbore Adapter Ring
Threading Adapters
Machined from 303 Stainless Steel
Adapt One Common Thread Standard to Another
Ideal for Mounting Posts
Thorlabs' selection of thread adapters offers numerous options for switching between M3, M4, M6, 4-40, 6-32, 8-32, and 1/4"-20 thread sizes. Choose from internal-to-external, external-to-external, or internal-to-internal thread adapters. We also offer internal-to-external threaded stud adapters. Our external-to-external and internal-to-external thread adapters can be adjusted with a screwdriver on either end. The internal-to-internal thread adapters and internal-to-external threaded stud adapters feature a through hole to provide additional torque when tightening or loosening.
The Mini-Series thread adapters can be used to make the Mini-Series posts compatible with our extensive range of optical mounts.
Counterbore Adapters
Threaded counterbore adapters are used to convert a counterbore to a threaded hole. A part such as the KM100 kinematic mirror mount features counterbores to provide imperial and metric compatibility. A cap screw is typically used to fasten these mounts to a post, but in some instances it is necessary to attach the mount to a post with a fixed threaded stud. The counterbore adapter allows parts, such as the KM100, to be post mounted when a cap screw cannot be used.
The SD1 is an adapter ring that provides a means to attach 8-32 (M4) tapped components to 1/4"-20 (M6) counterbored parts. One possible use for the SD1 is in a dovetail optical rail setup where the RC1 rail carriers feature a 1/4" (M6) counterbore. Optic mounts are commonly attached to RC1 rail carriers and usually require the SD1 adapter as most optic mounts are 8-32 (M6) tapped.
Thread Adapter Kits
Thread Adapter Kits are available in both imperial and metric varieties. Both kits come packaged in an organizing box with convenient scaled drawing labels and contain our most popular thread adapters. See below for a list of the specific adapters contained in each kit.