Open-Loop Piezo Controllers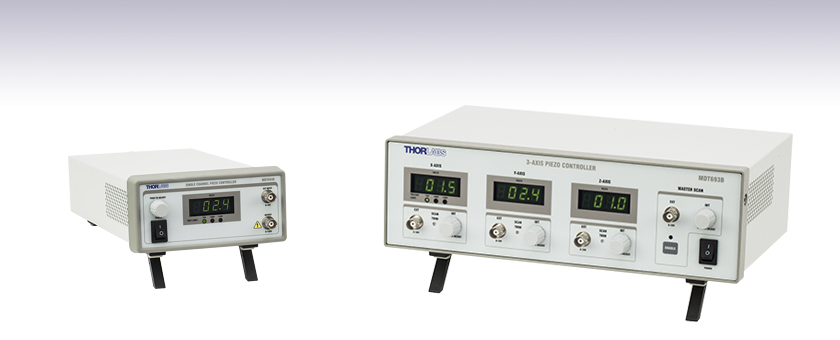 Output Voltage up to 150 V
Controlled Directly by Front Panel or Remotely Through BNC or Command Line
Designed for Open-Loop Systems
MDT694B
Single-Channel Model
MDT693B
Three-Channel Model

Please Wait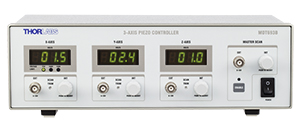 Click for Details
Front Panel of 3-Channel Model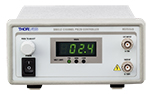 Click to Enlarge
Front Panel of Single-Channel Model
Features
Single-Channel and 3-Channel Versions
User-Selectable Output Voltage of 0 - 75 V, 0 - 100 V, or 0 - 150 V
Front Panel Knob(s) Provide Coarse or Fine Voltage Steps Based on Rotation Speed
Remotely Controllable Using a Command Line or a Voltage Supplied Through BNC
BNC Output Connectors with BNC-to-SMC Adapters Included
3-Channel Model Features Mode that Drives All Channels with One Signal
Thorlabs' Open-Loop Piezoelectric Controllers provide precise, low-noise output voltages for fine movement of piezoelectric actuators and stacks. Each output channel is independently controllable and provides a voltage ranging from 0 - 75 V, 0 - 100 V, or 0 - 150 V, depending upon the position of a switch on the back panel; the ability to choose a lower maximum voltage helps protect sensitive, low-voltage piezo devices. The voltage is output through BNC, and a 4-digit LED readout displays the value of the output voltage for each channel in real time. One BNC-to-SMC adapter (MDC40211) per channel is included in order to support actuators with SMC connectors.
Local and Remote Control Options
Each channel can be locally controlled by a rotary adjustment knob, remotely controlled through BNC by an external control voltage, or remotely controlled by a command-line interface. The command-line interface is accessed through USB 2.0. When using the adjustment knobs, a slow rotation will result in a small voltage step, while a fast rotation will provide larger voltage steps. The controller automatically locks the output voltage after 30 seconds to prevent accidental changes. When supplying an external control voltage through BNC, the externally supplied voltage is added to that provided by the adjustment knobs, preventing abrupt changes to the control voltage that could damage the piezoelectric capacitor. Regardless of the external control voltage's magnitude, the output voltage cannot exceed the maximum value selected on the back panel.
Master Scan Mode
The MDT693B Three-Channel Open-Loop Piezo Controller features a Master Scan mode that allows all three axes to be controlled by one signal. This can be used, for example, to translate a three-adjuster mirror mount entirely in Z, without introducing tip or tilt. To accommodate differences between piezo devices, the MDT693B controller includes Scan Trim knobs that multiply the applied control voltage by a user-definable value from 80% to 120%. In addition, in Master Scan mode, the individual channel rotary adjustment knobs define a DC offset voltage.
Bundles Available
For convenience, the MDT693B three-channel piezo controller is also sold in a bundle with a three-axis NanoMax flexure stage or a Ø1" three-adjuster mirror mount, as pictured to the left.
Item #
MDT694B
MDT693B
Output Specifications
Number of Channels
1
3
Connectors
BNC
(One BNC-to-SMC Adapter per Channel Included)
Output Voltage
0 - 75 V, 0 - 100 V, or 0 - 150 V
(Selected by Switch on Rear)
Output Voltage Resolution
When Using Knobs
1.1 mV (for 75 V Output Voltage Setting)
1.5 mV (for 100 V Output Voltage Setting)
2.2 mV (for 150 V Output Voltage Setting)
Output Current (Max)
60 mA
Output Noisea
1.5 mV (RMS)
~9.9 mV (Peak-to-Peak)
Output Impedance (Max)
150 Ω, 1.0 nF
Load Impedanceb (Min)
2.5 kΩ
Bandwidth (-3 dB)
9 kHz (No Load, Small Signal)
8.5 kHz (No Load, 150 Vpp)c
200 Hz (1.4 µF Piezo, 150 Vpp)c
Bandwidth Stability (-3 dB)
<0.01% Over 5 Hours
External Control through BNC
Input Voltage
0 - 10 V
Input Impedance
10 kΩ
Input Gain
7.5 V/V ± 5% (for 75 V Output Voltage Setting)
10 V/V ± 5% (for 100 V Output Voltage Setting)
15 V/V ± 5% (for 150 V Output Voltage Setting)
Output Voltage Resolution
When Using BNC
Limited by Noise of External Voltage Source
Scan Trim Gain Adjustment
80% to 120% of Sum of Master Scan External Voltage and
Offset from Rotary Adjustment Knob
External Control through Command Line
Physical Interface
Female Type B USB 2.0 Connector
Digital-to-Analog Resolution
16-Bit, 2.75 mV
Analog-to-Digital Resolution
16-Bit, 3.0 mV
Physical Specifications
Display Type
7-Segment LED with Four Digits
Display Resolution
0.1 V
Enclosure Size
6.05" × 3.22" × 12.11"
(153.6 mm × 81.8 mm × 307.6 mm)
12.18" × 4.15" × 8.55"
(309.4 mm × 105.5 mm × 217.1 mm)
Weight
1.93 kg (4.25 lbs)
3.02 kg (6.65 lbs)
Operating Temperature
10 to 40 °C
Power Specifications
Input Voltage
100 - 240 VAC
Input Frequency
50 - 60 Hz
Input Power (Max)
30 VA
60 VA
Fuse Type
IEC60127-2/3 (250 VA, Slow Blow, Type "T")
Fuse Dimensions
5 mm x 20 mm
Fuse Rating
500 mA
600 mA
Tested without an external load connected (1 nF output impedance only). Adding a capacitive load, such as a piezo, will decrease the noise because the capacitance will create a low-pass filter with the output resistance.
The smallest allowable terminating resistance. Applying lower impedances will cause the short-circuit protection to limit the output voltage. Continued use in this mode will cause circuit degradation and eventual circuit failure.
Assume a ramp function is used. The bandwidth depends upon the load and requires a calculation for a more representative number. See Chapter 6 of the manual for details.
Piezo Output
BNC Female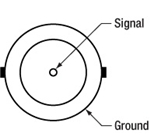 Output Voltage: 0 - 150 V
Output Impedance (Max): 150 Ω, 1.0 nF
External Voltage Control
BNC Female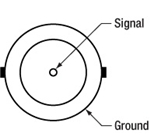 Input Voltage: 0 - 10 V
Input Impedance: 10 kΩ
External Computer Control
Type B USB Female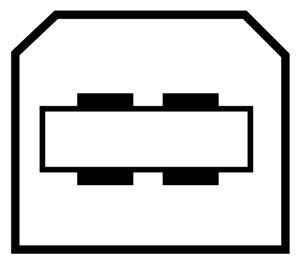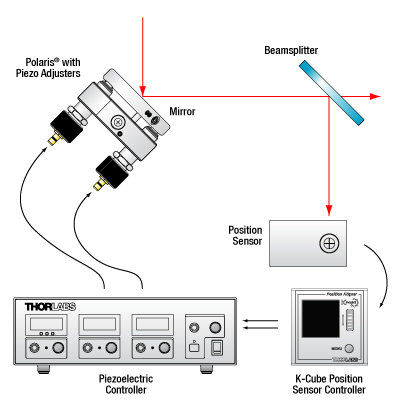 Click for Details
Piezo Controller as Part of a Closed-Loop System
Piezo Controller in a Beam Stabilization Setup
Active beam stabilization is often used to compensate for beam drift (unintended beam pointing deviations) in experimental setups. Drift can be caused by insecurely mounted optics, laser source instabilities, and thermal fluctuations within an optomechanical setup. In addition to correcting for setup errors, active stabilization is frequently used in laser cavities to maintain a high output power or used on an optical table to ensure that long measurements will take place under constant illumination conditions. Setups with long beam paths also benefit from active stabilization, since small angular deviations in a long path will lead to significant displacements downstream.
An example of a beam stabilization setup is shown in the schematic to the left. A beamsplitter inserted in the optical path sends a sample of the beam to a quadrant position sensor that monitors the displacement of the beam relative to the detector's center. (For optimal stabilization, the beamsplitter should be as close as possible to the measurement.) The quadrant detector outputs an error signal in X and Y that is proportional to the beam's position. Each error signal is fed into a channel of a piezoelectric controller that steers the beam back to the center of the quadrant sensor.
The setup illustrated here stabilizes the beam to a point in space. In order to stabilize the beam over a beam path, four independent output channels are required (i.e., at least two piezoelectric controllers), as are two mirror mounts with piezo adjusters, two position sensors, and two position sensor controllers. Suggested electronics for a beam stabilization setup are given in the table below.
Suggested Components
Description
Item #
Piezoelectric Controller
MDT693B Three-Channel Benchtop Controller
or MDT694B Single-Channel Benchtop Controllersa
Mirror Mount with Piezo Adjusters
(Choose One)
POLARIS-K1S3P Polaris® Mirror Mount with 3 Adjusters,
POLARIS-K1S2P Polaris® Mirror Mount with 2 Adjusters,
KC1-PZ (KC1-PZ/M) Mirror Mount, or
KC1-T-PZ (KC1-T-PZ/M) Mirror Mount with SM1-Threaded Bore
Quadrant Position Detector
PDP90A (320 - 1100 nm),
PDQ80A (400 - 1050 nm),
or PDQ30C (1000 - 1700 nm)
K-Cube™ Position Sensor Controller
KPA101
One controller is required per independently controlled axis.
Software
Version 2.4.2
Software package with GUI and drivers to control the MDT694B and MDT693B, as well as an SDK for third-party development.

External Control Using Serial Commands
The three output channels of the MDT693B piezo controller or the MDT694B's single output channel can also be modulated remotely by sending serial commands through USB. The list of available commands is given in Chapter 7 of the manual. They include the ability to read and set voltages on a per-channel basis, to increment or decrement the control voltage at fixed step sizes, and to enable Master Scan mode (available on the MDT693B and described in the Overview tab).
Compatibility
The MDT694B and MDT693B are also backwards compatible with the software and serial commands used to control the previous-generation products (MDT694A and MDT693A).
Please note that firmware version 1.09 or later is required if using version 2 of the software. The firmware can be updated by clicking the Software link to the left.
Piezo Driver Bandwidth Tutorial
Knowing the rate at which a piezo is capable of changing lengths is essential in many high-speed applications. The bandwidth of a piezo controller and stack can be estimated if the following is known:
The maximum amount of current the controllers can produce. This is 0.5 A for our BPC Series Piezo Controllers, which is the driver used in the examples below.
The load capacitance of the piezo. The higher the capacitance, the slower the system.
The desired signal amplitude (V), which determines the length that the piezo extends.
The absolute maximum bandwidth of the driver, which is independent of the load being driven.
To drive the output capacitor, current is needed to charge it and to discharge it. The change in charge, dV/dt, is called the slew rate. The larger the capacitance, the more current needed:

For example, if a 100 µm stack with a capacitance of 20 µF is being driven by a BPC Series piezo controller with a maximum current of 0.5 A, the slew rate is given by

Hence, for an instantaneous voltage change from 0 V to 75 V, it would take 3 ms for the output voltage to reach 75 V.
Note: For these calculations, it is assumed that the absolute maximum bandwidth of the driver is much higher than the bandwidths calculated, and thus, driver bandwidth is not a limiting factor. Also please note that these calculations only apply for open-loop systems. In closed-loop mode, the slow response of the feedback loop puts another limit on the bandwidth.
Sinusoidal Signal
The bandwidth of the system usually refers to the system's response to a sinusoidal signal of a given amplitude. For a piezo element driven by a sinusoidal signal of peak amplitude A, peak-to-peak voltage Vpp, and frequency f, we have:

A diagram of voltage as a function of time is shown to the right. The maximum slew rate, or voltage change, is reached at t = 2nπ, (n=0, 1, 2,...) at point a in the diagram to the right:
From the first equation, above:

Thus,


For the example above, the maximum full-range (75 V) bandwidth would be

.
For a smaller piezo stack with 10 times lower capacitance, the results would be 10 times better, or about 1060 Hz. Or, if the peak-to-peak signal is reduced to 7.5 V (10% max amplitude) with the 100 µm stack, again, the result would be 10 times better at about 1060 Hz.
Triangle Wave Signal
For a piezo actuator driven by a triangle wave of max voltage Vpeak and minimum voltage of 0, the slew rate is equal to the slope:

.
Or, since f = 1/T:
Square Wave Signal
For a piezo actuator driven by a square wave of maximum voltage Vpeak and minimum voltage 0, the slew rate limits the minimum rise and fall times. In this case, the slew rate is equal to the slope while the signal is rising or falling. If tr is the minimum rise time, then

or
.
For additional information about piezo theory and operation, see the Piezoelectric Tutorials page.