Specifications
Item #
LX10(/M)
LX20(/M)
LX20YZ(/M)
LX30(/M)
Translation Axes
One
Two (XY)a
Two (YZ)a
Three (XYZ)a
Travel
25 mm
Angular Deviationb
<125 µrad
Vertical Straightnessb,c
<10.0 µm
Deck Height
0.98"
(25.0 mm)
1.50"
(38.0 mm)
-
Platform Size
2.56" x 2.56" (65.0 mm x 65.0 mm)
Mounting Holes
Seven 1/4"-20 (M6) Taps
Horizontal Load Capacity
41 kg (90 lbs) Max
-
Vertical Load Capacity
4 kg (8.8 lbs) Maxd
Bearing Type
Crossed-Roller Bearings
Micrometer Specifications
Micrometer Item #
150-801ME-H
Resolution
500 µm Translation Per Revolution
Travel
25 mm
Micrometer Barrel Size
Ø3/8" (Ø9.5 mm)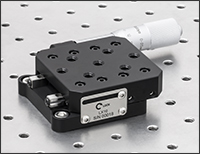 Click to Enlarge

These stages can be secured to a breadboard using two counterbored holes on either end. The holes can be accessed by translating the platform, as shown with the LX10 stage above.
Features
Self-Contained Stages with Integrated Micrometer Mounts
Crossed-Roller Bearings for High-Load Capacity and Low Angular Deviation
1-, 2-, or 3-Axis Versions
Seven 1/4"-20 (M6) Tapped Mounting Holes
Side-Mounted Metric Micrometer(s) with Ø3/8" (Ø9.5 mm) Barrel
Each Stage Individually Tested and Shipped with Test Data Certificate
Mounts to Optical Table Using Four 1/4" (M6) Counterbores
Thorlabs' LX Series Compact Translation Stages provide 25 mm of linear translation with less than 125 µrad of deviation per axis in pitch and yaw over the full range of the stages. Featuring compact footprints, the stages use crossed-roller steel bearings to support precision motion and high load capacities. The monolithic top and bottom plates feature integrated micrometer mounts and are machined from cast tool and jig aluminum for high stability and minimal internal stress.
After each stage is manufactured, the pitch, yaw, and vertical straightness of the stage are tested. This ensures that each stage meets the stated specifications over the full translation range of the stage. A summary of the test results is provided on an individualized data sheet that ships with each stage (sample data sheets can be viewed here for the LX10, LX20, and LX30).
The mounting surface includes an array of seven 1/4"-20 (M6) tapped holes with 1/2" (12.5 mm) spacings. Each stage axis is lockable via a side-located 5/64" (2.0 mm) hex screw in a locking bracket to guard against accidental movement. Each stage can be bolted directly to the optical table using four counterbored 1/4" (M6) holes that are revealed by translating the second plate from the bottom of each stage, as shown in the above image. For stages with X and Y translation, the micrometer attached to this plate blocks one of the mounting holes beneath it; to access this hole, the micrometer must first be removed. The base of each stage also has four Ø2.4 mm alignment dowel pin holes for use with 3/32" dowel pins.
Each stage is designed as a standalone stage with a specific number of axes; as such, single-axis stages cannot be combined into multi-axis stages and multi-axis stages cannot be disassembled into single-axis stages.
These stages come equipped with a metric micrometer head with 500 µm of travel per revolution for each axis. The micrometer can be translated using the knurled knob or, for finer translation, a 5/64" (2.0 mm) hex key. The micrometer can be removed and replaced at any time by loosening the side-located flexure clamp with a 5/64" (2.0 mm) hex key. This flexure clamp can hold any micrometer that has a Ø3/8" (Ø9.5 mm) mounting barrel.
Note: If removing the micrometer, ensure either that the locking bracket is fully tightened or that the spindle is fully retracted and no longer engaged with the moving body of the stage. Failure to do so could result in damage to the stage or require it to be recalibrated to meet its specified performance.