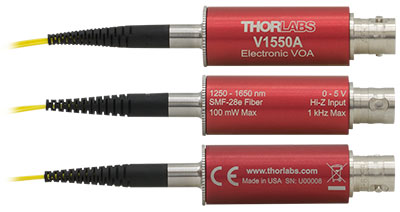 Click to Enlarge
A female BNC connector is located on one end of the barrel, and fiber leads with either FC/APC or FC/PC connectors are integrated into the opposite end. Each barrel is engraved with the shown information for convenience.
Features
MEMS-Based Devices Provide Attenuation up to >30 dB or >25 dB (See Table to the Right)
Single Mode Operation
Control Optical Power by Applying 0 to 5 V Signal
Six Operating Wavelength Ranges Available (See Table to the Right)
Maximum Optical Input Power of 100 mW
Modulation up to 1 kHz
BNC Input is Protected from Electrostatic Discharge
Thorlabs' Fiber-Coupled Electronic Variable Optical Attenuators (VOAs) are microelectromechanical system (MEMS) based devices that provide attenuation up to >30 dB or >25 dB, depending on the model. The optical fiber built into each device is single mode over the specified operating wavelength range. Driving voltages of 0 to 5 V control optical transmission, which decreases with applied voltage. These high-speed VOAs support modulation up to 1 kHz. Protection diodes integrated into the design limit the input voltage to protect the VOA from ESD, as well as from other over-voltage and under-voltage events.
A plot of the typical relationship between the applied voltage and the optical transmission for each electronic VOA model is included in the Specs tab. Most voltage sources, including power supplies, function generators, and digital-to-analog converters (DACs), can be used to control these electronic VOAs. Use a BNC cable (not included) to connect the electronic VOA to the voltage source. The MEMS VOA is an electrostatic device that inherently requires no current. However, the protection circuitry can draw up to 100 µA for applied voltages of 5 V.
Either of the unit's 50 cm long fiber leads can be used as the input, as performance is similar in both directions. However, you may find that one of the connectors provides a lower loss connection in your set-up due to the random nature of core alignment. As shown in the image above, the barrel of each electronic VOA is etched, for convenience, with information such as the operating wavelength range, maximum optical input power, maximum modulation bandwidth, and driving voltage range. These VOAs are designed for use with optical fiber that is single mode within the operating range. Please see the Specs tab for information on the single mode fibers integrated into each model.
Electronic VOAs with polarization-maintaining (PM) fiber and FC/APC connectors are available here.
Fiber Core Alignment
Note that the minimum attenuation for these devices depends on excellent core-to-core alignment when the connectors are mated. This is even more crucial for shorter wavelength VOAs with smaller fiber core diameters. If they are not perfectly aligned, the insertion loss can easily go up many decibels above the specification. Since we cannot control the fibers that are used to connect to these devices, we test the devices for minimum attenuation by using a setup that actively aligns the cores of the fibers and minimizes the connector loss. From this, we obtain the minimum attenuation possible for each device. Unless the user also does the same, or better yet, fusion splices the fibers, they may not achieve the specified minimum attenuation.
Item #
V450A
V450F
V600A
V600F
V800A
V800F
V1000A
V1000F
V1550A
V1550F
V2000A
V2000F
Wavelength Range
450 to 600 nm
600 to 780 nm
780 to 980 nm
980 to 1250 nm
1250 to 1650 nm
1700 to 2300 nm
Attenuationa
Max
>30 dB
>25 dB
Min
2.5 dB
2.0 dB
1.5 dB
Optical Input Power
100 mW Max
Optical Return Loss
>30 dB
Fiber Connectorsb
FC/APC
FC/PC
FC/APC
FC/PC
FC/APC
FC/PC
FC/APC
FC/PC
FC/APC
FC/PC
FC/APC
FC/PC
Device Fiber Typec
460HP
630HP
780HP
HI1060-J9
SMF-28 Type
SM2000
Modulation Signal Input
Input Voltage
0 to 5 V (Absolute Max: 10 V, 5 mA)
Input Impedance
High-Z
Bandwidth
DC to 1 kHz
Input Voltage Connector
Female BNC
Physical Specifications
Dimensions
Diameter: 15.7 mm (0.62")
Length Excluding Fiber Leads: 50.1 mm (1.97")
Length of the Fiber Leads: 50.0 cm ± 10.0 cm
Operating Temperature
0 °C to 40 °C
Storage Temperature
-20 °C to 70 °C
Relative Humidity
5% to 85% (Non-Condensing)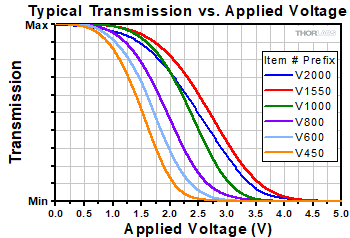 Click to Enlarge
Typical Optical Transmission as a Function of Applied Voltage
(Test Wavelengths: 520 nm for V450 models; 635 nm for V600 models; 850 nm for V800 models; 1060 nm for V1000 models;
1550 nm for V1550 models; 2000 nm for V2000 models)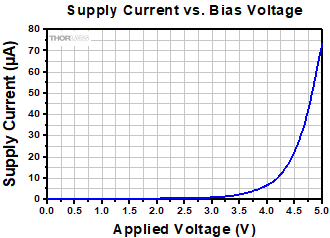 Click to Enlarge
The supply current required to drive these electronic VOAs over the 0 to 5 V operating range is plotted above.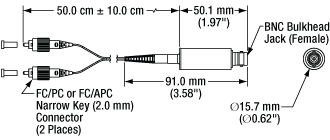 Click for Details
Mechanical Drawing of the Fiber-Coupled VOA Package