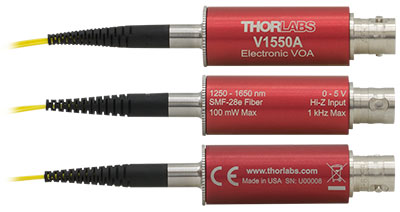 Click to Enlarge
A female BNC connector is located on one end of the barrel, and fiber leads with either FC/APC or FC/PC connectors are integrated into the opposite end. Each barrel is engraved with the shown information for convenience.
Features
MEMS-Based Devices Provide Attenuation up to >30 dB or >25 dB
Single Mode Operation over Five Wavelength Ranges:

450 nm to 600 nm
600 nm to 780 nm
780 nm to 980 nm
980 nm to 1250 nm
1250 nm to 1650 nm

Control Optical Power by Applying 0 to 5 V Signal (1 mA Max)
Input Optical Power up to 100 mW
Modulation up to 1 kHz
Input is Protected from Electrostatic Discharge (ESD)
Thorlabs' Fiber-Coupled Electronic Variable Optical Attenuators (VOAs) are microelectromechanical system (MEMS) based devices that provide attenuation up to >30 dB or >25 dB, depending on the model. The optical fiber built into each device is single mode over the specified operating wavelength range. Driving voltages of 0 to 5 V (1 mA max) control optical transmission, which decreases with applied voltage. These high-speed VOAs support modulation up to 1 kHz. Protection diodes integrated into the design limit the input voltage to protect the VOA from ESD, as well as from other over-voltage and under-voltage events.
A plot of the typical relationship between the applied voltage and the optical transmission for each electronic VOA model is included in the Specs tab. Most voltage sources, including power supplies, function generators, and digital-to-analog converters (DACs), can be used to control these electronic VOAs. Use a BNC cable (not included) to connect the electronic VOA to the voltage source. The MEMS VOA is an electrostatic device that inherently requires no current. However, the protection circuitry can draw up to 100 µA for applied voltages of 5 V.
Either of the unit's 0.5 m long fiber leads can be used as the input, as performance is similar in both directions. The IN label on one connector identifies the fiber used as the input during testing. As shown in the image above, the barrel of each electronic VOA is etched, for convenience, with information such as the operating wavelength range, maximum optical input power, maximum modulation bandwidth, and driving voltage range. These VOAs are designed for use with optical fiber that is single mode within the operating range. Please see the Specs tab for information on the single mode fibers integrated into each model.
Electronic VOAs with polarization-maintaining (PM) fiber and FC/APC connectors are available here.
Item #
V450A
V450F
V600A
V600F
V800A
V800F
V1000A
V1000F
V1550A
V1550F
Wavelength Range
450 to 600 nm
600 to 780 nm
780 to 980 nm
980 to 1250 nm
1250 to 1650 nm
Attenuationa
Max
>30 dB
>25 dB
Min
2.5 dB
2.0 dB
1.5 dB
Optical Input Power (Maximum)
100 mW
Optical Return Loss
>30 dB
Fiber Connectorsb
FC/APC
FC/PC
FC/APC
FC/PC
FC/APC
FC/PC
FC/APC
FC/PC
FC/APC
FC/PC
Device Fiber Typec
460HP
630HP
780HP
HI1060-J9
SMF-28 Type
Modulation Signal Input
Input Voltage
0 to 5 V (1 mA Max)
Input Impedance
High-Z
Bandwidth
DC to 1 kHz
Input Voltage Connector
Female BNC
Physical Specifications
Dimensions

Diameter: 15.7 mm (0.62")
Length Excluding Fiber Leads: 50.1 mm (1.97")
Length of the Fiber Leads: 0.50 m +0.07/-0 m
Operating Temperature Range
0 °C to 40 °C
Storage Temperature Range
-20 °C to 70 °C
Relative Humidity
5% to 85% (Non-Condensing)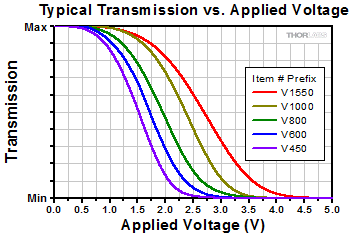 Click to Enlarge
Typical Optical Transmission as a Function of Applied Voltage
(Test Wavelengths: 520 nm for V450 models; 635 nm for V600 models;
850 nm for V800 models; 1060 nm for V1000 models;
and 1550 nm for V1550 models)

Click to Enlarge
The supply current required to drive these electronic VOAs over the 0 to 5 V operating range is plotted above.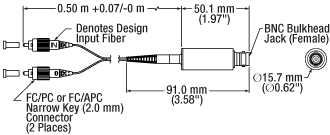 Click for Details
Mechanical Drawing of the Fiber-Coupled VOA Package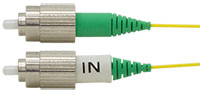 Click to Enlarge
Either connector can be used as input, as performance is similar in both directions. The IN label identifies the fiber used as input during testing.

Janis Valdmanis, Ph.D. Optics
Ultrafast Optoelectronics
General Manager
Custom and OEM Options
When your application requirements are not met by our range of catalog products or their variety of user-configurable features, please contact me to discuss how we may serve your custom or OEM needs.
Request a Demo Unit
Explore the benefits of using a Thorlabs high-speed instrument in your setup and under your test conditions with a demo unit. Contact me for details.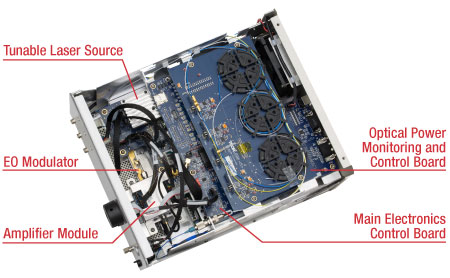 Click to Enlarge
The MX40B Digital Reference Transmitter
Design, Manufacturing, and Testing Capabilities
Thorlabs' Ultrafast Optoelectronics Team designs, develops, and manufactures high-speed components and instrumentation for a variety of photonics applications having frequency responses up to 70 GHz. Our extensive experience in high-speed photonics is supported by core expertise in RF/microwave design, optics, fiber optics, optomechanical design, and mixed-signal electronics. As a division of Thorlabs, a company with deep vertical integration and a portfolio of over 20,000 products, we are able to provide and support a wide selection of equipment and continually expand our offerings.
Our catalog and custom products include a range of integrated fiber-optic transmitters, modulator drivers and controllers, detectors, receivers, pulsed lasers, variable optical attenuators, and a variety of accessories. Beyond these products, we welcome opportunities to design and produce custom and OEM products that fall within our range of capabilities and expertise. Some of our key capabilities are:
Detector and Receiver Design, to 70 GHz
Fiber-Optic Transmitter Design, to 70 GHz
RF & Microwave Design and Simulation
Design of Fiber-Optic and Photonics Sub-Assemblies
High-Speed Testing, to 70 GHz
Micro-Assembly and Wire Bonding
Hermetic Sealing of Microwave Modules
Fiber Splicing of Assemblies
Custom Laser Engraving
Qualification Testing
Overview of Custom and Catalog Products
Our catalog product line includes a range of integrated fiber-optic transmitters, modulator drivers and controllers, detectors, pulsed lasers, and accessories. In addition to these, we offer related items, such as receivers and customized catalog products. The following sections give an overview of our spectrum of custom and catalog products, from fully integrated instruments to component-level modules.
Fiber-Optic Instruments
To meet a range of requirements, our fiber-optic instruments span a variety of integration levels. Each complete transmitter includes a tunable laser, a modulator with driver amplifier and bias controller, full control of optical output power, and an intuitive touchscreen interface. The tunable lasers, modulator drivers, and modulator bias controllers are also available separately. These instruments have full remote control capability and can be addressed using serial commands sent from a PC.
Fiber-Optic Transmitters, to 70 GHz
Linear and Digital Transmitters
Electrical-to-Optical Converters, to 70 GHz
Modulator Drivers
Modulator Bias Controllers
C- and L-Band Tunable Lasers
Customization options include internal laser sources, operating wavelength ranges, optical fiber types, and amplifier types.
Fiber-Optic Components
Our component-level, custom and catalog fiber-optic products take advantage of our module design and hermetic sealing capability. Products include detectors with frequency responses up to 50 GHz, and we also specialize in developing fiber-optic receivers, operating up to and beyond 40 GHz, for instrumentation markets. Closely related products include our amplifier modules, which we offer upon request, variable optical attenuators, microwave cables, and cable accessories.
Hermetically-Sealed Detectors, to 50 GHz
Fiber-Optic Receivers, to 40 GHz
Amplifier Modules
Electronic Variable Optical Attenuators
Microwave Cables and Accessories
Customization options include single mode and multimode optical fiber options, where applicable, and detectors optimized for time or frequency domain operation.
Free-Space Instruments
Our free-space instruments include detectors with frequency responses around 1 GHz and pulsed lasers. Our pulsed lasers generate variable-width, nanosecond-duration pulses, and a range of models with different wavelengths and optical output powers are offered. User-adjustable repetition rates and trigger in/out signals provide additional flexibility, and electronic delay-line products enable experimental synchronization of multiple lasers. We can also adapt our pulsed laser catalog offerings to provide gain-switching capability for the generation of pulses in the 100 ps range.
Pulsed Lasers with Fixed 10 ns Pulse Duration
Pulsed Lasers with Variable Pulse Width and Repetition Rates
Electronic Delay Units to Synchronize NPL Series Pulsed Lasers
Amplified Detectors
Customization options for the pulsed lasers include emission wavelength, optical output powers, and sub-nanosecond pulse widths.