See what's new at Thorlabs:
View the full list of new products (below) or browse our entire product range.
All of these items are available now!

Choose

RSS Feed to have this information delivered to you.

2 New Products in the Light Accessories Family!
«« View All New Products
«« View ByCategory
Thorlabs offers a variety of light accessories for labs. Available are laser safety accessories such as laser glasses, beam blocks, and shutters. For broadband, non-laser light, we offer lab blackout options such as blackout curtains, optical enclosures, and a variety of blackout materials. Other lab safety tools include include ESD protection accessories to reduce the risk of damaging sensitive electronics while handling them. The alignment aids offered help when aligning laser beams from the UV to IR.
MIR Detector Cards: 1.5 to >13.2 µm (View Product Family)
1 New Product!

VRC6H- MIR Liquid Crystal Detector Card, 1.5 to >13.2 µm, 25 to 30 °C Ambient Temperature RELEASED: October 18, 2019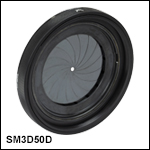 SM3-Threaded, Ring-Actuated Iris Diaphragm (View Product Family)
1 New Product!

SM3D50D- SM3 Ring-Actuated Iris Diaphragm (Ø2 - Ø50 mm) RELEASED: October 16, 2019