3 New Products in the Light Accessories Family!
«« View All New Products
«« View ByCategory
Thorlabs offers a variety of light accessories for labs. Available are laser safety accessories such as laser glasses, beam blocks, and shutters. For broadband, non-laser light, we offer lab blackout options such as blackout curtains, optical enclosures, and a variety of blackout materials. Other lab safety tools include include ESD protection accessories to reduce the risk of damaging sensitive electronics while handling them. The alignment aids offered help when aligning laser beams from the UV to IR.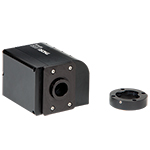 Motorized Pinhole Wheels (View Product Family)
1 New Product!

MPH16-UC- 16-Position Motorized Pinhole Wheel for Confocal Imaging, Uncoated RELEASED: March 12, 2020 - Customer Inspired Product!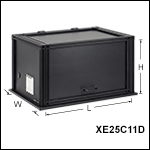 Aluminum Enclosure with Hinged Door (View Product Family)
2 New Products!

XE25C11D/M- 525 mm x 375 mm x 300 mm (L x W x H) Aluminum Enclosure with Hinged L-Shaped Door RELEASED: February 14, 2020


XE25C11D- 21" x 15" x 12" (L x W x H) Aluminum Enclosure with Hinged L-Shaped Door RELEASED: February 14, 2020