See what's new at Thorlabs:
View the full list of new products (below) or browse our entire product range.
All of these items are available now!

Choose

RSS Feed to have this information delivered to you.

8 New Products in the Irises / Apertures Family!
«« View All New Products
«« View ByCategory
This section contains mounted, unmounted, SM-series (including SM1 and SM2 threads), lens tube, adjustable, calibrated, ring-activated, and cage system iris diaphragms, as well as precision pinholes and slits, and mechanical slits. A motorized pinhole wheel and a pinhole spatial filter system can also be found here.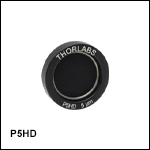 Stainless Steel Pinhole, Ø1/2" Housing (View Product Family)
8 New Products!

P5HD- Ø1/2" (12.7 mm) Mounted Pinhole, 5 ± 1 µm Pinhole Diameter, Stainless Steel RELEASED: November 17, 2020


P50HD- Ø1/2" (12.7 mm) Mounted Pinhole, 50 ± 3 µm Pinhole Diameter, Stainless Steel RELEASED: November 17, 2020


P500HD- Ø1/2" (12.7 mm) Mounted Pinhole, 500 ± 10 µm Pinhole Diameter, Stainless Steel RELEASED: November 17, 2020


P25HD- Ø1/2" (12.7 mm) Mounted Pinhole, 25 ± 2 µm Pinhole Diameter, Stainless Steel RELEASED: November 17, 2020


P200HD- Ø1/2" (12.7 mm) Mounted Pinhole, 200 ± 6 µm Pinhole Diameter, Stainless Steel RELEASED: November 17, 2020


P10HD- Ø1/2" (12.7 mm) Mounted Pinhole, 10 ± 1 µm Pinhole Diameter, Stainless Steel RELEASED: November 17, 2020


P100HD- Ø1/2" (12.7 mm) Mounted Pinhole, 100 ± 4 µm Pinhole Diameter, Stainless Steel RELEASED: November 17, 2020


P1000HD- Ø1/2" (12.7 mm) Mounted Pinhole, 1000 ± 10 µm Pinhole Diameter, Stainless Steel RELEASED: November 17, 2020