3 New Products in the Rotation Mounts Family!
«« View All New Products
«« View ByCategory
Thorlabs' Rotation Mounts are available in manual and motorized configurations. Each has a bore that is SM threaded, making them compatible with our extensive line of lens tubes and accessories. We offer cage system rotation mounts for each of our three cage systems that hold Ø1/2", Ø1", or Ø2" optics. Additionally, 2-Axis Linear Plus Rotation Stages provide both XY translation and coarse rotation, making them ideal for use in microscopy applications.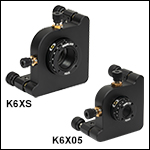 6-Axis Kinematic Optic Mounts (View Product Family)
1 New Product!

K6X05- 6-Axis Locking Kinematic Mount for Ø1/2" Optics RELEASED: June 11, 2020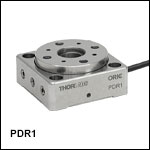 Rotation Stage with Piezo Inertia Drive (View Product Family)
2 New Products!

PDR1/M- ORIC™ Rotation Stage with Piezo Inertia Drive, Metric RELEASED: May 22, 2020


PDR1- ORIC™ Rotation Stage with Piezo Inertia Drive, Imperial RELEASED: May 22, 2020