3 New Products in the Optical Mirror Mounts Family!
«« View All New Products
«« View ByCategory
Thorlabs offers a wide array of optical mirror mounts that accommodate many popular optics sizes. We also offer our ultra-stable Polaris Mirror Mounts. These industry-leading optical mirror mounts are engineered for demanding applications that require extremely high stability.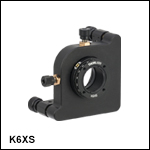 6-Axis Kinematic Optic Mounts (View Product Family)
1 New Product!

K6X2- 6-Axis Locking Kinematic Mount for Ø2" Optics RELEASED: October 16, 2019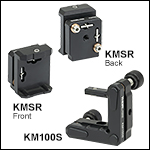 Kinematic Mounts for 1" Tall Rectangular Optics (View Product Family)
2 New Products!

KMSR/M- Compact Kinematic Mount for 25.4 mm Tall Rectangular Optics, M4 Taps RELEASED: October 07, 2019


KMSR- Compact Kinematic Mount for 1" Tall Rectangular Optics, 8-32 Taps RELEASED: October 07, 2019