See what's new at Thorlabs:
View the full list of new products (below) or browse our entire product range.
All of these items are available now!

Choose

RSS Feed to have this information delivered to you.

1 New Product in the Optomechanical Devices Family!
«« View All New Products
«« View ByCategory
Optomechanical devices include an optical chopper, scanning galvo mirrors, adaptive optics, a motorized pinhole wheel, a piezo objective scanner, a motorized flip mount, motorized filter wheels, and optical beam shutters.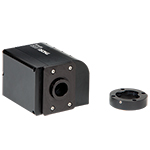 Motorized Pinhole Wheels (View Product Family)
1 New Product!

MPH16-UC- 16-Position Motorized Pinhole Wheel for Confocal Imaging, Uncoated RELEASED: March 12, 2020 - Customer Inspired Product!