"; _cf_contextpath=""; _cf_ajaxscriptsrc="/cfthorscripts/ajax"; _cf_jsonprefix='//'; _cf_websocket_port=8578; _cf_flash_policy_port=1244; _cf_clientid='25750EA1B27B20BBD1FBCC6596077A6E';/* ]]> */
| | | | | | |
| --- | --- | --- | --- | --- | --- |
| Your Shopping Cart is Empty | | | | | |
See what's new at Thorlabs:
View the full list of new products (below) or browse our entire product range.
All of these items are available now!

Choose

RSS Feed to have this information delivered to you.

1 New Product in the Motion Control Electronics Family!
«« View All New Products
«« View ByCategory
Benchtop and rack-based controllers for DC motors, stepper motors, and piezo actuators are available below. The APT controllers are easily interfaced with a computer and can be used in combination seamlessly. The K-Cube™ series provides compact and scalable tabletop photonics solutions.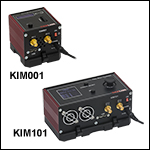 K-Cube™ Controllers for Piezo Inertia Stages and Actuators (View Product Family)
1 New Product!

KIM001- Single-Channel K-Cube Inertial Motor Controller (Power Supply Sold Separately) RELEASED: December 12, 2019 - Customer Inspired Product!