See what's new at Thorlabs:
View the full list of new products (below) or browse our entire product range.
All of these items are available now!

Choose

RSS Feed to have this information delivered to you.

2 New Products in the Bases / Table Clamps Family!
«« View All New Products
«« View ByCategory
To mount various posts, instruments, and other equipment to a breadboard or table, Thorlabs offers a large range of standard, universal, magnetic, alignment, and kinematic bases and clamps.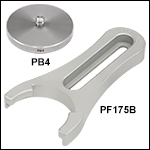 Base Adapters and Clamping Fork for Ø1" Post Holders and Ø1.5" Posts (View Product Family)
2 New Products!

PF175B-P5- Clamping Fork for Ø1.5" Pedestal Post or Post Pedestal Base Adapter, Universal, 5 Pack RELEASED: August 05, 2020


PF175B- Clamping Fork for Ø1.5" Pedestal Post or Post Pedestal Base Adapter, Universal RELEASED: August 05, 2020