See what's new at Thorlabs:
View the full list of new products (below) or browse our entire product range.
All of these items are available now!

Choose

RSS Feed to have this information delivered to you.

2 New Products in the Ø1/2" Optical Post Assemblies Family!
«« View All New Products
«« View ByCategory
The Ø1/2" and Ø12 mm post assemblies enable a wide range of mounting capabilities for optical components. This page features Ø1/2" posts and Ø12 mm posts and pedestal posts constructed from solid stainless steel. Posts are available in a variety of lengths ranging from 0.75" (20 mm) to 12" (300 mm), and pedestal post lengths vary from 0.5" (12.5 mm) to 2" (50.0 mm). The posts and one series of pedestal posts feature a bottom-located 1/4"-20 (M6) tapped hole and a top-located 8-32 (M4) removable stud, while the other series of pedestal posts possess a 4-40 (M3) tapped hole and removable stud. Also included on this page are post clamps, 90 degree post adapters, right-angle post clamps, and swivel clamps. A series of Ø12 mm posts and accessories are also available for Japanese customers.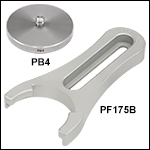 Base Adapters and Clamping Fork for Ø1" Post Holders and Ø1.5" Posts (View Product Family)
2 New Products!

PF175B-P5- Clamping Fork for Ø1.5" Pedestal Post or Post Pedestal Base Adapter, Universal, 5 Pack RELEASED: August 05, 2020


PF175B- Clamping Fork for Ø1.5" Pedestal Post or Post Pedestal Base Adapter, Universal RELEASED: August 05, 2020