See what's new at Thorlabs:
View the full list of new products (below) or browse our entire product range.
All of these items are available now!

Choose

RSS Feed to have this information delivered to you.

4 New Products in the Polarization Instrumentation Family!
«« View All New Products
«« View ByCategory
This page features the optics and instrumentation necessary to control and measure the polarization of light. Our free-space and fiber-coupled polarimeters can measure any state of polarization (SOP) on the Poincaré sphere.
Recalibration Service for PAX1000 Polarimeters (View Product Family)
1 New Product!

CAL-PAX2- Calibration Service for PAX1000 Series Polarimeters RELEASED: June 11, 2021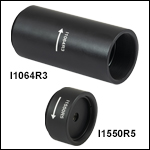 Near-IR Faraday Rotators (View Product Family)
3 New Products!

I1480R5- 45° Faraday Rotator, CWL = 1480 nm RELEASED: June 02, 2021


I1310R5- 45° Faraday Rotator, CWL = 1310 nm RELEASED: June 02, 2021


I1170R5- 45° Faraday Rotator, CWL = 1170 nm RELEASED: June 02, 2021