See what's new at Thorlabs:
View the full list of new products (below) or browse our entire product range.
All of these items are available now!

Choose

RSS Feed to have this information delivered to you.

2 New Products in the Detectors Family!
«« View All New Products
«« View ByCategory
This is Thorlabs' selection of optical detectors with products capable of detecting light throughout the UV, VIS, NIR, IR, and THz spectral regions. Depending on the sensor chosen, quantities such as intensity, power, intensity distribution, wavefront shape, energy, and wavelength can be measured.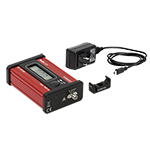 DC to 20 GHz Detector with Integrated Current Monitor (View Product Family)
1 New Product!

DXM20AF- Ultrafast Detector with Current Monitor, 1250 - 1650 nm, DC - 20 GHz, FC/PC RELEASED: April 14, 2017

Ge Photodiodes - NIR Wavelengths (View Product Family)
1 New Product!

FDG10X10- Ge Photodiode, 10 μs Rise Time, 800 - 1800 nm, 10 mm x 10 mm Active Area RELEASED: March 22, 2017