See what's new at Thorlabs:
View the full list of new products (below) or browse our entire product range.
All of these items are available now!

Choose

RSS Feed to have this information delivered to you.

1 New Product in the Manual Rotation Stages Family!
«« View All New Products
«« View ByCategory
We offer a variety of manual rotation stages, including coarse, high precision, worm drive, and stages with crossed-roller bearings and quick connect functionality. We also offer rotation mounts, platforms, and goniometers.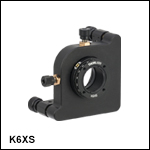 6-Axis Kinematic Optic Mounts (View Product Family)
1 New Product!

K6X2- 6-Axis Locking Kinematic Mount for Ø2" Optics RELEASED: October 16, 2019