See what's new at Thorlabs:
View the full list of new products (below) or browse our entire product range.
All of these items are available now!

Choose

RSS Feed to have this information delivered to you.

2 New Products in the Microscope Objective Accessories Family!
«« View All New Products
«« View ByCategory
Thorlabs offers a range of accessories for microscope objectives, including parfocal length extenders, thread adapters, objective cases and caps, and immersion oil.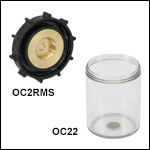 Microscope Objective Cases (Lids and Canisters Sold Separately) (View Product Family)
2 New Products!

OC2CM- Lid for Objective Case, Internal C-Mount (1.000"-32) Threads RELEASED: December 17, 2018 - Customer Inspired Product!


OC2SM05- Lid for Objective Case, Internal SM05 (0.535"-40) Threads RELEASED: December 17, 2018