See what's new at Thorlabs:
View the full list of new products (below) or browse our entire product range.
All of these items are available now!

Choose

RSS Feed to have this information delivered to you.

2 New Products in the Splicers Family!
«« View All New Products
«« View ByCategory
Thorlabs' Vytran® Fiber Optic Splicers are available in models capable of splicing cladding diameters up to Ø1.25 mm. Our CO2 Laser End-Cap Splicer can directly splice end caps up to Ø5 mm. Along with several options for temporary or mechanical splices, our Vytran fiber splicers are available in standalone systems or multipurpose systems that are also capable of stripping, cleaning, cleaving, recoating, and/or proof testing.

Use the key below to determine which tools are appropriate for your application.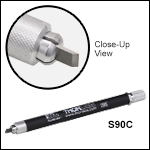 Carbide Fiber Scribe (View Product Family)
1 New Product!

S90C- Carbide DualScribe Fiber Optic Scribe RELEASED: September 16, 2020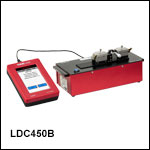 Portable Fiber Cleaver for Ø200 µm to Ø800 µm Cladding Fibers (View Product Family)
1 New Product!

LDC450B- Large-Diameter Fiber Cleaver, Portable, Ø200 µm to Ø800 µm Cladding, Flat Cleaves RELEASED: September 09, 2020