"; _cf_contextpath=""; _cf_ajaxscriptsrc="/cfthorscripts/ajax"; _cf_jsonprefix='//'; _cf_websocket_port=8578; _cf_flash_policy_port=1244; _cf_clientid='68A656B66025DFE06BB83936B813D0D0';/* ]]> */
See what's new at Thorlabs:
View the full list of new products (below) or browse our entire product range.
All of these items are available now!

Choose

RSS Feed to have this information delivered to you.

1 New Product in the Kinematic Mounts for Round Optics Family!
«« View All New Products
«« View ByCategory
For round optics, we offer a variety of kinematic mounts including our ultra-stable Polaris Mirror Mounts. These industry-leading mirror mounts are engineered for demanding applications that require extremely high stability.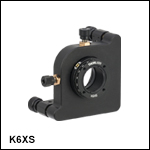 6-Axis Kinematic Optic Mounts (View Product Family)
1 New Product!

K6X2- 6-Axis Locking Kinematic Mount for Ø2" Optics RELEASED: October 16, 2019