See what's new at Thorlabs:
View the full list of new products (below) or browse our entire product range.
All of these items are available now!

Choose

RSS Feed to have this information delivered to you.

11 New Products in the Splicers Family!
«« View All New Products
«« View ByCategory
Thorlabs' Vytran® Fiber Optic Splicers are available in models capable of splicing cladding diameters up to Ø1.25 mm. The GPX Series Glass Processors can splice fibers or end caps with up to Ø5 mm cladding and additionally offer the ability to taper fibers, create terminations such as ball lenses, and fabricate couplers or combiners. Choose from dedicated, standalone splicing systems or multipurpose designs that are also capable of stripping, cleaning, cleaving, recoating, and/or proof testing.

Use the key below to determine which tools are appropriate for your application.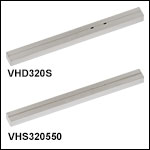 Multi-Fiber Holder Bottom Inserts - Two Required for Making Couplers/Combiners (View Product Family)
11 New Products!

VHD250V- Double-V-Slot Fiber Holder Bottom Insert, Ø250 µm / Ø250 µm RELEASED: August 02, 2017


VHD125S- Side-by-Side Fiber Holder Bottom Insert, Ø125 µm / Ø125 µm RELEASED: August 02, 2017


VHS320400- Triple-V-Slot Fiber Holder Bottom Insert, Ø320 µm / Ø400 µm / Ø320 µm RELEASED: August 02, 2017


VHS300350- Triple-V-Slot Fiber Holder Bottom Insert, Ø300 µm / Ø350 µm / Ø300 µm RELEASED: August 02, 2017


VHS250250- Triple-V-Slot Fiber Holder Bottom Insert, Ø250 µm / Ø250 µm / Ø250 µm RELEASED: August 02, 2017


VHD320P- Double-V-Slot Fiber Holder Bottom Insert with Alignment Pins, Ø320 µm / Ø320 µm RELEASED: August 02, 2017


VHS250500- Triple-V-Slot Fiber Holder Bottom Insert, Ø250 µm / Ø500 µm / Ø250 µm RELEASED: June 09, 2017


VHS320550- Triple-V-Slot Fiber Holder Bottom Insert, Ø320 µm / Ø550 µm / Ø320 µm RELEASED: June 09, 2017


VHS250400- Triple-V-Slot Fiber Holder Bottom Insert, Ø250 µm / Ø400 µm / Ø250 µm RELEASED: June 09, 2017


VHD320S- Side-by-Side Fiber Holder Bottom Insert, Ø320 µm / Ø320 µm RELEASED: June 09, 2017


VHD320V- Double-V-Slot Fiber Holder Bottom Insert, Ø320 µm / Ø320 µm RELEASED: June 09, 2017