See what's new at Thorlabs:
View the full list of new products (below) or browse our entire product range.
All of these items are available now!

Choose

RSS Feed to have this information delivered to you.

2 New Products in the Cleavers Family!
«« View All New Products
«« View ByCategory
Thorlabs' Fiber Cleavers are capable of cleaving fibers from Ø60 μm to Ø1.25 mm, depending on the model chosen. Along with manual cleavers, our Vytran® automated splicers are available as dedicated standalone systems or multipurpose designs that are also capable of stripping, cleaning, tapering, splicing, recoating, and/or proof testing.

Use the key below to determine which tools are appropriate for your application.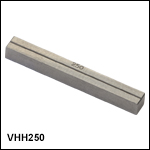 Bottom V-Groove Inserts for Non-Rotating Fiber Holding Blocks - Two Required for FHB1 (View Product Family)
2 New Products!

VHH400- Bottom V-Groove Insert for FHB1 and PTR Series, Ø350 µm - Ø450 µm Coating RELEASED: September 20, 2017


VHH300- Bottom V-Groove Insert for FHB1 and PTR Series, Ø250 µm - Ø350 µm Coating RELEASED: September 20, 2017