See what's new at Thorlabs:
View the full list of new products (below) or browse our entire product range.
All of these items are available now!

Choose

RSS Feed to have this information delivered to you.

1 New Product in the Dichroic Mirrors / Beamsplitters Family!
«« View All New Products
«« View ByCategory
Thorlabs' Dichroic Mirrors/Beamsplitters spectrally separate light by transmitting and reflecting light as a function of wavelength. A longpass dichroic mirror is highly reflective below the cut-on wavelength and highly transmissive above it, while a shortpass dichroic mirror is highly transmissive below the cutoff wavelength and highly reflective above it. We also offer a dual-band dichroic mirror, which has two transmission bands and one reflection band. This type of dichroic is highly transmissive below the cutoff wavelength and above the cut-on wavelength, while highly reflective between the cutoff and cut-on.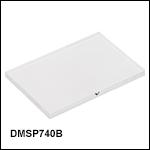 Multi-Band Dichroic Mirror: 740/1080 nm Cutoff, 1020 nm Cut-On (View Product Family)
1 New Product!

DMSP740B- 35 mm x 52 mm Multi-Band Dichroic Mirror, 740/1080 nm Cutoff, 1020 nm Cut-On RELEASED: March 29, 2019