See what's new at Thorlabs:
View the full list of new products (below) or browse our entire product range.
All of these items are available now!

Choose

RSS Feed to have this information delivered to you.

5 New Products in the TO Can Laser Diode Mounts Family!
«« View All New Products
«« View ByCategory
Thorlabs offers laser diode mounts for Ø3.8 mm, Ø5.6 mm, or Ø9 mm TO can packages. Many of our mounts include a TEC that supports temperature regulation of the housed laser diode, indicated by the thermometer symbol on the links below. Accessories such as laser diode sockets and collimation packages are also available.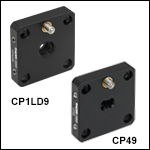 Individual 30 mm Cage Plates for Laser Diodes (View Product Family)
5 New Products!

CP49- 30 mm Cage Plate Mount for TO-3 Laser Diodes RELEASED: December 23, 2020


CP1LD9- 30 mm Cage Plate Mount for Ø9 mm TO Can Laser Diodes RELEASED: December 23, 2020


CP1LD56- 30 mm Cage Plate Mount for Ø5.6 mm TO Can Laser Diodes RELEASED: December 23, 2020


CP1LD9/M- 30 mm Cage Plate Mount for Ø9 mm TO Can Laser Diodes, Metric RELEASED: November 11, 2020


CP1LD56/M- 30 mm Cage Plate Mount for Ø5.6 mm TO Can Laser Diodes, Metric RELEASED: November 10, 2020