See what's new at Thorlabs:
View the full list of new products (below) or browse our entire product range.
All of these items are available now!

Choose

RSS Feed to have this information delivered to you.

8 New Products in the Alignment Tools Family!
«« View All New Products
«« View ByCategory
Thorlabs offers a wide variety of tools to assist with aligning UV to IR light. Handheld and breadboard-mountable solutions are available, as well as options for working with lens tubes, cage systems, and optics mounts.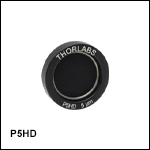 Stainless Steel Pinhole, Ø1/2" Housing (View Product Family)
8 New Products!

P5HD- Ø1/2" (12.7 mm) Mounted Pinhole, 5 ± 1 µm Pinhole Diameter, Stainless Steel RELEASED: November 17, 2020


P50HD- Ø1/2" (12.7 mm) Mounted Pinhole, 50 ± 3 µm Pinhole Diameter, Stainless Steel RELEASED: November 17, 2020


P500HD- Ø1/2" (12.7 mm) Mounted Pinhole, 500 ± 10 µm Pinhole Diameter, Stainless Steel RELEASED: November 17, 2020


P25HD- Ø1/2" (12.7 mm) Mounted Pinhole, 25 ± 2 µm Pinhole Diameter, Stainless Steel RELEASED: November 17, 2020


P200HD- Ø1/2" (12.7 mm) Mounted Pinhole, 200 ± 6 µm Pinhole Diameter, Stainless Steel RELEASED: November 17, 2020


P10HD- Ø1/2" (12.7 mm) Mounted Pinhole, 10 ± 1 µm Pinhole Diameter, Stainless Steel RELEASED: November 17, 2020


P100HD- Ø1/2" (12.7 mm) Mounted Pinhole, 100 ± 4 µm Pinhole Diameter, Stainless Steel RELEASED: November 17, 2020


P1000HD- Ø1/2" (12.7 mm) Mounted Pinhole, 1000 ± 10 µm Pinhole Diameter, Stainless Steel RELEASED: November 17, 2020