See what's new at Thorlabs:
View the full list of new products (below) or browse our entire product range.
All of these items are available now!

Choose

RSS Feed to have this information delivered to you.

2 New Products in the Optical Tweezers Systems Family!
«« View All New Products
«« View ByCategory
Thorlabs' Optical Tweezers provide scientists in a variety of disciplines a tool for trapping and manipulating microscale objects.

Microscope System: Designed for scientists who desire an out-of-the-box optical tweezers solution with real-time, high-resolution force and particle tracking and a complete software package.

Modular System: Our Modular Tweezers are ideal for those seeking a setup with an open architecture. Various laser, stage, camera, and imaging modules can be used to configure and reconfigure the setup for research and advanced teaching applications.

Demonstration Kit: Our Demonstration Kit provides an interactive setup which allows students to learn about the basic concepts of light / matter forces. This kit is part of Thorlabs Discovery educational product line to teach young researchers the concepts of modern optics and photonics.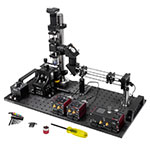 Optical Tweezers Demonstration Kit (View Product Family)
2 New Products!

EDU-OT2/M- Portable Optical Tweezers Educational Kit, Metric RELEASED: August 03, 2018


EDU-OT2- Portable Optical Tweezers Educational Kit, Imperial RELEASED: August 03, 2018