See what's new at Thorlabs:
View the full list of new products (below) or browse our entire product range.
All of these items are available now!

Choose

RSS Feed to have this information delivered to you.

2 New Products in the Thorlabs Discovery - Educational Products and Kits Family!
«« View All New Products
«« View ByCategory

Thorlabs' educational line of products aims to promote physics, optics, and photonics by covering many classic experiments, as well as emerging fields of research. Each kit includes components for building the experiments and a manual that contains both detailed setup instructions and extensive teaching materials. These photonics educational kits are being offered at the price of the included components, with the educational materials offered for free. Technical support from our educational team is available both before and after purchase.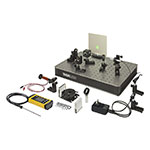 (View Product Family)
2 New Products!

EDU-MINT2/M- Michelson Interferometer Educational Kit, Metric RELEASED: December 04, 2018


EDU-MINT2- Michelson Interferometer Educational Kit, Imperial RELEASED: December 04, 2018