See what's new at Thorlabs:
View the full list of new products (below) or browse our entire product range.
All of these items are available now!

Choose

RSS Feed to have this information delivered to you.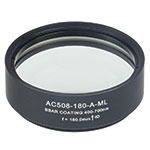 Ø2" Mounted Achromatic Doublets, AR Coated: 400 - 700 nm (View Product Family)
1 New Product!

ACT508-1000-A-ML- f=1000 mm, Ø2" Achromatic Doublet, SM2-Threaded Mount, ARC: 400-700 nm RELEASED: August 18, 2020 - Customer Inspired Product!