See what's new at Thorlabs:
View the full list of new products (below) or browse our entire product range.
All of these items are available now!

Choose

RSS Feed to have this information delivered to you.

3 New Products in the Liquid Crystal Devices Family!
«« View All New Products
«« View ByCategory
Thorlabs sells a collection of liquid crystal technologies, including a Liquid Crystal Noise Eater, a tunable filter, and variable retarders. We also sell empty liquid crystal cells for constructing custom liquid crystal devices.
Exulus Spatial Light Modulators with WUXGA Resolution (View Product Family)
1 New Product!

EXULUS-HD3- Spatial Light Modulator, 1920 x 1200, 650 - 1100 nm, Universal 8-32 / M4 Taps RELEASED: November 12, 2019 - Customer Inspired Product!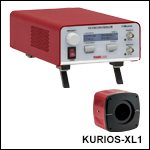 Liquid Crystal Tunable Filter, Fixed Narrow Bandwidth, Visible Wavelengths (View Product Family)
2 New Products!

KURIOS-XL1/M- Tunable Filter, Fixed Narrow Bandpass, Ø35 mm CA, 430 - 730 nm, M4 Taps RELEASED: November 07, 2019


KURIOS-XL1- Tunable Filter, Fixed Narrow Bandpass, Ø35 mm CA, 430 - 730 nm, 8-32 Taps RELEASED: November 07, 2019