See what's new at Thorlabs:
View the full list of new products (below) or browse our entire product range.
All of these items are available now!

Choose

RSS Feed to have this information delivered to you.

2 New Products in the Cage System Construction Family!
«« View All New Products
«« View ByCategory
The cage system uses four rigid steel rods on which optical components can be mounted along a common optical axis. Our SR series rods are for use with the 16 mm cage system, while our ER series rods are for use with the 30 mm and 60 mm cage systems. This page features cage rods, covers to enclose cage systems, adapter plates, and other components for building cage systems.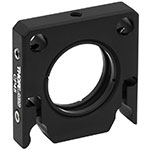 30 mm Removable Segment Cage Plate (View Product Family)
2 New Products!

CP45T- 30 mm Removable Segment Cage Plate, 0.50" Thick, 8-32 Mounting Holes RELEASED: December 23, 2020


CP45/M- 30 mm Removable Segment Cage Plate, 0.35" Thick, M4 Mounting Holes RELEASED: November 23, 2020