See what's new at Thorlabs:
View the full list of new products (below) or browse our entire product range.
All of these items are available now!

Choose

RSS Feed to have this information delivered to you.

2 New Products in the Temperature Control and Measurement Family!
«« View All New Products
«« View ByCategory
Thorlabs offers several products for temperature measurement and control in the lab, including thermoelectric coolers, thermistors, transducers, a thermoelectric liquid chiller, a temperature-controlled breadboard, and a resistive heating temperature controller. We also offer a USB-compatible temperature and humidity logger, laser coolant with corrosion inhibitors, and double-sided thermally conductive tape.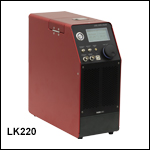 (View Product Family)
1 New Product!

LK220- Thermoelectric Liquid Chiller, 200 W RELEASED: December 13, 2019

Metal Ceramic Heaters with Thermistors (View Product Family)
1 New Product!

HT19R2- 19 W Metal Ceramic Ring Heater with 10 kΩ Thermistor, 50 mm OD, 43 mm ID RELEASED: November 25, 2019