See what's new at Thorlabs:
View the full list of new products (below) or browse our entire product range.
All of these items are available now!

Choose

RSS Feed to have this information delivered to you.

4 New Products in the Active Optical Devices Family!
«« View All New Products
«« View ByCategory
Thorlabs' collection of components and systems below are designed to actively control the phase of, modulate, or amplify light.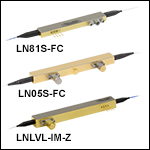 Intensity Modulators (View Product Family)
1 New Product!

LNLVL-IM-Z- Low Vπ Intensity Modulator, Z-Cut, FC/PC Connectors, Operational up to 40 GHz RELEASED: July 27, 2020

10 GHz Photoreceivers (View Product Family)
3 New Products!

RXM10DF- Multimode Ultrafast Receiver, 700 - 870 nm, 40 kHz - 10 GHz, FC/PC RELEASED: June 09, 2020


RXM10CF- Single Mode Ultrafast Receiver, 700 - 870 nm, 40 kHz - 10 GHz, FC/PC RELEASED: June 09, 2020


RXM10AF- Single Mode Ultrafast Receiver, 850 - 1650 nm, 40 kHz - 10 GHz, FC/PC RELEASED: June 09, 2020