See what's new at Thorlabs:
View the full list of new products (below) or browse our entire product range.
All of these items are available now!

Choose

RSS Feed to have this information delivered to you.

3 New Products in the Active Optical Devices Family!
«« View All New Products
«« View ByCategory
Below you'll find Thorlabs' collection of components and systems designed to actively modulate, amplify, or control the phase of light.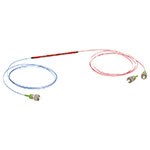 1064 nm Fused Fiber Polarization Combiners/Splitters (View Product Family)
3 New Products!

PFC1064F- Fused Fiber Polarization Combiner/Splitter, 1064 ± 15 nm, FC/PC RELEASED: September 05, 2018


PFC1064B- Fused Fiber Polarization Combiner/Splitter, 1064 ± 15 nm, No Connectors RELEASED: September 05, 2018


PFC1064A- Fused Fiber Polarization Combiner/Splitter, 1064 ± 15 nm, FC/APC RELEASED: September 05, 2018