See what's new at Thorlabs:
View the full list of new products (below) or browse our entire product range.
All of these items are available now!

Choose

RSS Feed to have this information delivered to you.

1 New Product in the Spectral Filters Family!
«« View All New Products
«« View ByCategory
Thorlabs' selection of dielectric-coated spectral filters are presented here. Bandpass and laser line filters are available in the visible, near-IR, and infrared ranges. Our bandpass filters feature a dielectric-stack Fabry-Pérot interferometer design. Our premium bandpass filters are hard-coated for higher transmission and are more durable and longer-lasting than our standard bandpass filters. We offer an IR blocking filter that rejects light in the NIR range.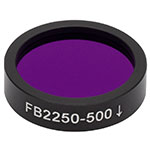 1.75 - 6.00 µm Bandpass Filters (View Product Family)
1 New Product!

FB1900-200- Ø25 mm IR Bandpass Filter, CWL = 1.90 µm, FWHM = 200 nm RELEASED: November 20, 2020