"; _cf_contextpath=""; _cf_ajaxscriptsrc="/cfthorscripts/ajax"; _cf_jsonprefix='//'; _cf_websocket_port=8578; _cf_flash_policy_port=1244; _cf_clientid='216D9F1C8DBD08EFA242E49187EB440C';/* ]]> */
| | | | | | |
| --- | --- | --- | --- | --- | --- |
| Your Shopping Cart is Empty | | | | | |
See what's new at Thorlabs:
View the full list of new products (below) or browse our entire product range.
All of these items are available now!

Choose

RSS Feed to have this information delivered to you.

1 New Product in the 30 mm Cage Plates Family!
«« View All New Products
«« View ByCategory
Thorlabs offers several styles of cage plates for our popular 30 mm Cage System. Standard plates are designed to hold Ø1" optics with various thicknesses. SM1-threaded versions are designed to interface with our Ø1" Lens Tubes and SM1-threaded optics. For applications requiring quick changes in components, we offer both quick release cage plates and removable cage segment plates. A 30 mm cage system-compatible U-Bench mount is offered to provide setups a 2.50" gap.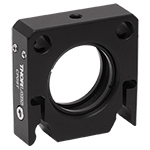 30 mm Removable Segment Cage Plate (View Product Family)
1 New Product!

CP45/M- 30 mm Removable Segment Cage Plate, 0.35" Thick RELEASED: November 23, 2020