See what's new at Thorlabs:
View the full list of new products (below) or browse our entire product range.
All of these items are available now!

Choose

RSS Feed to have this information delivered to you.

2 New Products in the Lamps Family!
«« View All New Products
«« View ByCategory
Thorlabs' broadband lamps include tungsten-halogen light sources, xenon arc lamps, a deuterium UV light source, Globar sources for the mid-IR, and high-power IR emitters. Wavelength ranges or corresponding blackbody temperatures are given below.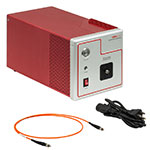 (View Product Family)
2 New Products!

SLS255B- Replacement Xenon Bulb for the SLS205 RELEASED: November 05, 2019


SLS205- Fiber-Coupled Xenon Light Source, 240 - 1200 nm RELEASED: November 05, 2019