See what's new at Thorlabs:
View the full list of new products (below) or browse our entire product range.
All of these items are available now!

Choose

RSS Feed to have this information delivered to you.

1 New Product in the Optical Filters Family!
«« View All New Products
«« View ByCategory
Thorlabs' optical filters include an extensive collection of dielectric-coated filters, colored glass filters, neutral density filters, spatial filters, and a tunable optical filter based on liquid crystal technology. For convenience, many of our optical filters are available mounted or in a kit.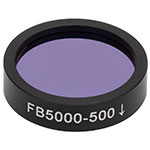 5.00 - 9.50 µm Bandpass Filters (View Product Family)
1 New Product!

FB5330-250- Ø25 mm IR Bandpass Filter, CWL = 5.33 µm, FWHM = 250 nm RELEASED: May 16, 2019 - Customer Inspired Product!